Guitarist, Songwriter, working as a ghost producer and mixing & mastering engineer currently from Leipzig, Germany. Kevin Dyczek is this month's SoundGym hero!
Who are you, and where are you from?
My name is Kevin Dyczek, I'm 23 years old and I was born in Nuremberg, Germany. I moved to Leipzig in September 2020 and have been living there since.
How did you get into music?
I started with an old friend just for the fun of exploring some music programs. We started when I was 13 years old, so I've been working on music for ten years. I do not only produce music but I also write my own songs, sing some of them myself and play the guitar.
I studied Audio Engineering on the SAE Institute in Leipzig, which obviously led me to Leipzig, where I do work as a ghost producer and mixing & mastering engineer now.
What do you like to do for fun outside of working on music?
I love doing sports, especially going to the gym! For me, it is extremely important to keep myself physically fit.
Not just because I sit all day long (which can be very hard and depressing sometimes) but also because I can deal better with my emotions that way.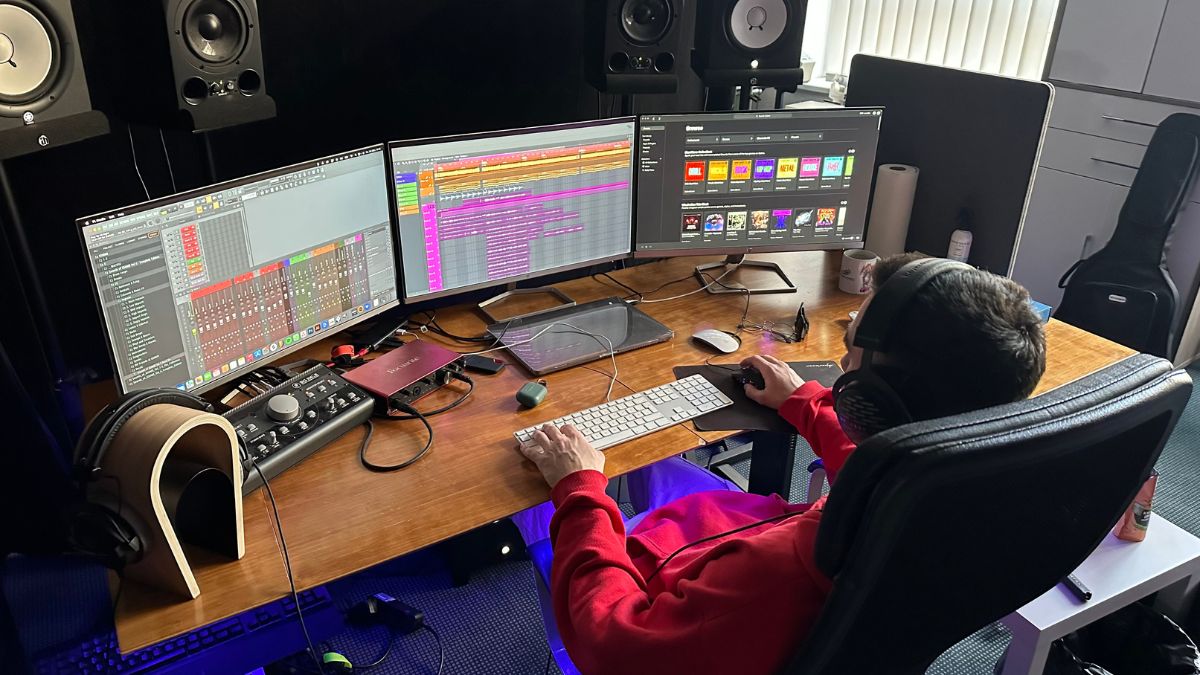 What's your most useless skill or talent?
Puh, that's a taff one… But I think my secret useless skill is to mimic sounds in my daily life or try to mimic voice actors. It's kind of funny and a habit of mine :D
What inspires you to keep making music?
Making music just gives me so much in life, it fulfills me. It is my best skill I trained myself in for years and I'm very proud of that.
Seeing how far I've come just makes me push myself more and more. I know I will get were I want to be! It is also the best way for me to express my emotions. I always remind myself: I wrote the best songs in my worst times… so either way it's a win-win situation.
If you could sit down to a session with any artist, who would it be?
To be honest there are so many inspiring artists which makes it a hard decision… BUT… If I had to decide, I would probably choose Abel Tesfaye aka. "The Weeknd" or Max Martin and ask them about their secret formula of writing hits.
Jokes by side, Abel is an incredible musician and an amazing singer! Also, I find his appearance very mysterious and interesting.
Max Martin is like the best songwriter that ever existed and it would be such a huge honor to write a song with him.
Any habits you have before starting a session?
No, not really. I start many sessions just to try things out or practice special skills. When I start mixing or mastering assignments I first listen to the references they sent me, but besides that I don't have any "before starting a session" habits. :)
For me producing and writing songs is a really spontaneous, creative and fun thing to do.
If you could pick one, what would be the theme song of your life?
"High Hopes" from Panic! At The Disco is the perfect theme song for my life because it speaks to my constant drive to strive for better and never give up on my dreams.
The lyrics inspire me to "raise the bar and our cups to the stars" and to never settle for mediocrity. The upbeat and energetic melody captures my optimistic and ambitious spirit, always pushing me forward towards my goals. In short, "High Hopes" perfectly embodies my life philosophy of always reaching for the sky and never losing sight of my aspirations.
What is your favorite piece of music gear you own?
I love my headphones (DT 1990 Pro) so much because of the great sound. After over four years of using them, I know exactly how music has to sound on them!
What is your favorite SoundGym feature?
My favorite SoundGym features are the percentage display and all statistics because I love to compete myself! It is so motivating to improve not only your skills but also succeed on statistics!
Another feature I love is, EQ Mirror" because it's perfect for learning how to mirror the sound of any song. It is an extremely important skill if you work with reference tracks for mixing or mastering assignments!
What does the future hold for Kevin Dyczek?
My future will be great! I have dreams and goals I am working on seven days a week, and every day I get one step closer to achieving them!
My music is permanently changing in style and genre. I try out many different things and I'm open to learning as much as possible!
SoundGym, for example, is a really great way to improve your hearing and your production skills, and it shows you can always get better at everything!
You can follow Kevin on Spotify, Instagram, Soundcloud, and Youtube.
---