Avid Learner, Self-taught multi-instrumentalist, and On his path to mastering the art of music production. Currently located in Toronto, Canada. Ben Sinclair is this month's SoundGym Hero!
Who are you, and where are you from?
My name is Ben Sinclair, and I am located in Toronto, Canada.
How did you get into music, and for how long have you been making music?
I got into music when I was about 10 years old. Somehow I got interested in drumming and taught myself how to play by ear/watching drummers in music videos on MTV/MuchMusic (pre-YouTube). Then along the way, my friends would leave their instruments at my place after we jammed, so I started to pick up guitar/bass/keys etc.
Music production, however, I only got into it towards the end of 2019. When it comes to playing music, I've been at it for a while (20 years, yikes) but producing/mixing music; I'm still in the early stages of my journey (about 18 months or so).
What do you like to do for fun outside of working on music?
I tend to recharge mentally by doing some gaming; I find it weirdly sparks my creativity and can reset my focus. I also like to watch baseball and yell at my TV while watching baseball, but I have no answer as to why that is.
What's your most useless skill or talent?
I can recite an impressive amount of dialogue/scenes from Face Off with Nicolas Cage and John Travolta despite only seeing it once over twenty years ago. Trust me; it's a hit at parties!
What inspires you, and what makes you want to keep making music?
I love music because you can always improve upon your craft, and there are always new skills/talents you can pick up along the way. I started primarily as a drummer and still work at finding new ways to elevate my drumming, but as I started to learn other instruments, I found it deepened my connection with drumming and helped me become a better musician.
Then once I started doing music production, I found that helped me further my understanding of all things I've learned up to this point. I always try to learn something new and find ways to improve. That's what keeps me hooked on music.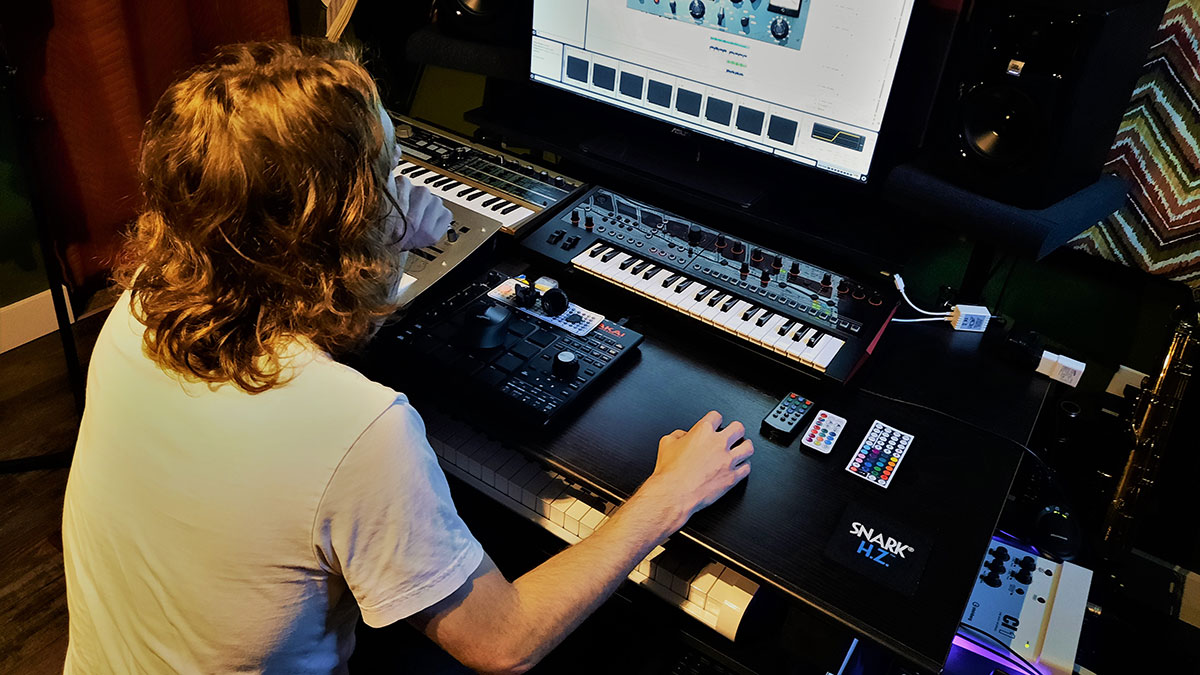 If you could sit down to a session with any artist, who would it be?
I love the craft of songwriting more than anything else, so I'd love to sit down with two of my biggest influences, Brian Wilson of The Beach Boys and Paul McCartney. The way they write melodies/harmonies, their chord structures and how they subtly modulate is something I'd love to pick their brains about.
Any habits you have before starting a session?
The musician side of me always does some stretching and warm-ups before I practice/gig. Not only does it help you loosen up, but it's also going to keep you healthy and avoid injuries. For mixing, I always listen to the song from start to finish before touching anything. Even when I'm halfway into the mix, I listen to where I left off when I boot up that session the next day. The reason for that is that your ears will be the freshest on that first listen, so you'll be able to hear anything that needs attention, and you can make notes accordingly.
Once I started doing that, my sessions seemed to be a lot more structured, and I had way better results than when I first started mixing and would immediately start fiddling around with plugins aimlessly.
If you could pick one, what would be the theme song of your life?
Probably this mash-up of Space Jam with the Frigate theme from Goldeneye 007 on the N64. Much like one of my previous answers as to why I have no answer.
What is your favourite piece of music gear you own?
I love all my children equally. (I might have to say it's the Slate ML-1, it's designed to have a flat response and then uses software to emulate some classic mics but highly expensive mics, think Neumann/Telefunken etc... Best bang for your buck if you are looking into purchasing a real nice mic for recording.)
What is your favourite SoundGym feature?
The gym itself. I signed up at the start of 2020 and set a goal for myself to get Diamond Ears. Up until this point, I had absolutely no experience with EQ/Compression/FX etc... I learned so much from playing the games every day, and it really whipped me into musical shape quickly! I was shocked at my own progress within just a couple of months.
Not only was I able to identify EQ boosts/cuts and start really being able to hear how compression worked (which I thought would take me years), these skills transferred over to my mixing and helped me make better decisions while mixing. I can not thank SoundGym enough for making such a helpful resource; I encourage anyone reading this to sign up for Pro if you haven't already and go for Diamond! And while it's not really a feature, I have to give a shoutout to Leigh and Maggy, who keep the Mixdown Training Room running.
If you are unfamiliar with MTR, it's a space where we post free multi-tracks and mix together as a community, giving each other advice/feedback to help improve our skills as mixers. I would probably be making the same crummy mixes and repeating the same mistakes I was making at the start of my mixing journey if it wasn't for the help of everyone in that community who gave me advice. The only way to get better at something is to practice, so I highly recommend joining if you want to improve your mixing (don't be nervous, we don't bite!)
What does the future hold for Ben Sinclair in the music industry?
I'm starting to release original music under the pseudonym of Albert Shalmers, where I write/play/sing/produce/mix everything myself with varying degrees of success. I don't know exactly when I got the idea of becoming a self-sufficient musician, but once I started to think about it, I began working towards it. I released my first single last month, and I'm hard at work finishing up the second single with plans for a full album to be released eventually. There's a music video coming soon that probably won't be ready for when this article goes live, but check me out on social media for updates.
I'd love to get back to playing live music again, it's been at a standstill here in Canada, unfortunately, but things have slowly started to open back up over the past month. Until then, I am always willing to work/collaborate/help out other musicians, so feel free to reach out to me through DMs!
Follow Ben Sinclair on his Instagram and Spotify.