Inspired by dance music ,the culture surrounding it, and currently working on a first big EP under is own name, @Sean Raya, one of SoundGym's early members not only has the respect of winning our prestigious gold medal but also to the honor of being named the first ever SoundGym Hero!
How long have you been on SoundGym?
I have been on SoundGym since July of 2016.
What's was your first connection to music?
Oh man… I guess the absolute first connection I had with music was when I was a little kid, maybe only 3-4 years old, my parents had this old electric organ that I used to be fascinated with. I used to play intervals on the keyboard and respond, emotionally, to how they made me feel. Now that I think of it, those are some of the first memories I have in life!
What I think really grabbed me though was when my parents got me a guitar for my birthday when I was, I think, 10 years old. I loved that thing and wanted to play it as much a possible, playing in bands all throughout my adolescence.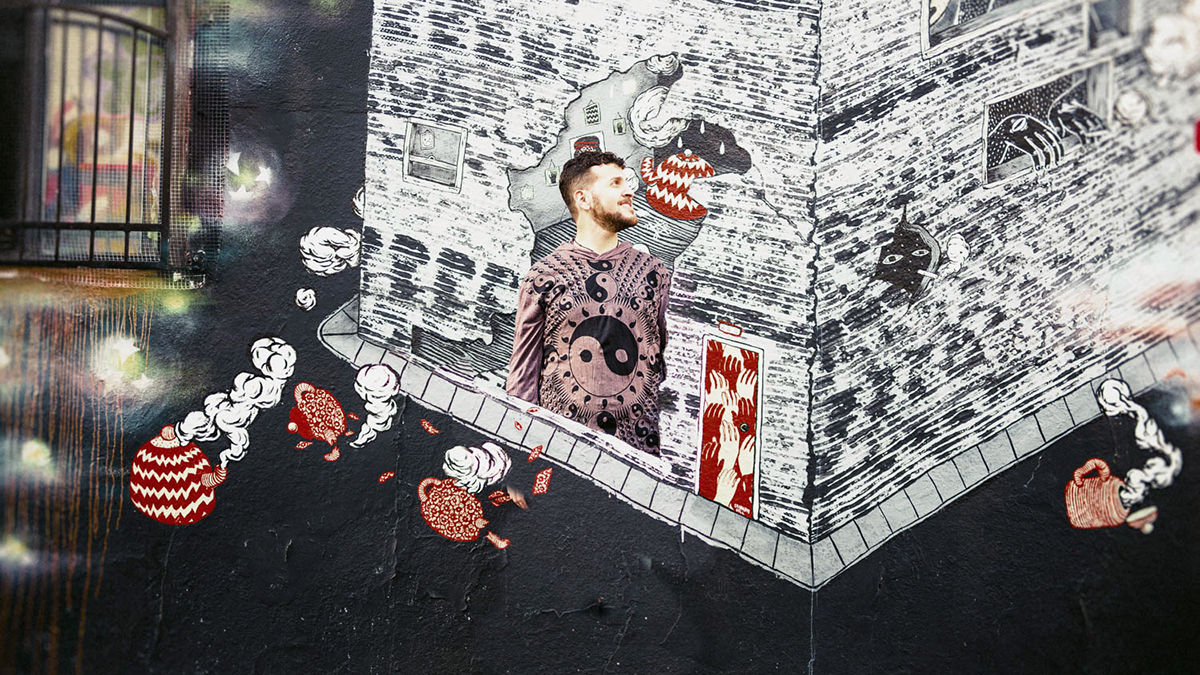 When did you make the transition to DJing and production?
I was 17 at the time and had just moved to a city called Syracuse in Upstate New York. Being a Punk Rocker at the time and growing up listening to a lot of guitar-heavy music, I had never really been exposed to dance music or rave culture. That all changed during the early part of winter in 2005 when I befriended a guy named Shannon, who I am still friends with today. He was a bonafide raver that had great taste in music. He had a pair of turntables and educated me by playing records from the likes of The Chemical Brothers, BT, Infected Mushroom, Bad Boy Bill, Crystal Method… you name it. That really opened up the door for me. Then, shortly after, Shannon took me to my first rave and I was hooked.
This music became my life and I had to know everything about it and the culture surrounding it. I even ended up trading my car with Shannon in exchange for his turntables and mixer. Then, from DJing, the desire to make my own music grew until I picked up a copy of Reason in 2008. I moved over to Ableton in 2009 and the rest is history.
Tell us a little bit about Pyramids Podcast? How did it start?
I started Pyramids Podcast almost a year ago now. It all stemmed from my love for House and Techno music and wanting a global platform to share all the amazing music I was finding in the world. The pyramid symbolizes my journey through music and how it has made me the person I am today. It takes many bricks to build a pyramid and the top brick can't be laid until all the other bricks have been carefully placed. My musical experiences are my bricks and this podcast is what sits on top of my pyramid.
(Pyramids Podcast streams live on Diesel.FM radio the third Wednesday of every month at 2pm ET/11am PT. You can listen to past episodes on iTunes, Google Play, or directly on Sean's Soundcloud @ Soundcloud.com/SeanRayaMusic)
Which artists / producers are your biggest inspiration ?
In the Techno world, Dense & Pika, Maceo Plex, and David August are always nailing it.
I also love Nicolas Jaar. His album, Sirens, was my favorite of 2016.
I listen to a lot… Tycho, Bonobo, Acid Pauli, Icicle, The Crystal Method, Deadmau5, Zero 7, Thievery Corp, Pink Floyd, Buddy Guy, Duke Ellington, Herbie Hancock… I could sit here for hours.
What have you been working on lately?
I have my first big EP under my real name, Sean Raya, dropping this June on Reload Black FMLY. I am stoked to be a part of a label filled with talented artists, some of which I would call heroes of mine in the techno world!
I also just started a new series on my Soundcloud called "From The Vault." The whole basis behind this series is to show where I come from and what I have done in the past. I take a song that has just been sitting on my hard drive for a long time and release it out to the world for free.
As far as works in progress, I have a ton of new music I am working on and am excited to get out there. Mix in a bunch of mixing and mastering jobs with DJing gigs and that pretty much sums up my life right now. There is never a dull moment!
Tell us a bit about your workflow at the studio?
It really depends what hat I am wearing that day.
If I am producing, I am just focusing on getting down ideas as quick as I can and keeping a vibe going. That is why I love Ableton. I find I can get my ideas down quickly with Ableton. I don't really have to think much, which I find is the best way to keep things flowing during the creative stage. Sometimes I mix as I go, sometimes I don't mix until I have the main piece of the track all worked out. It really just depends on my emotional response to whatever I am working on at the time.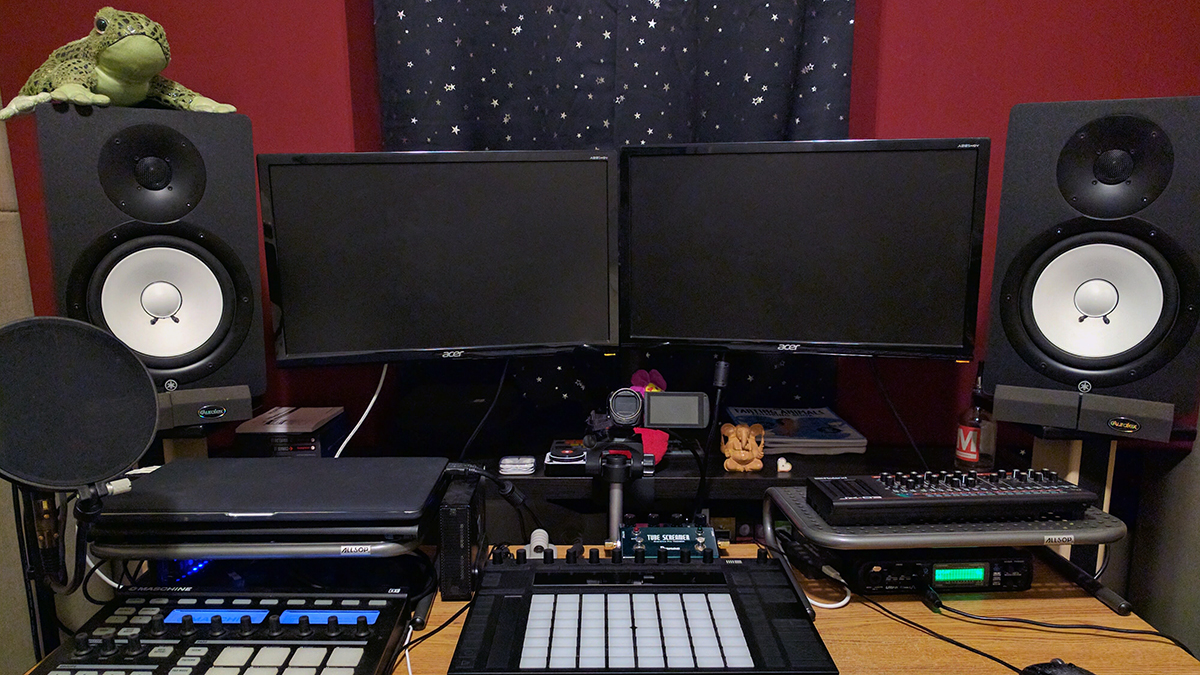 Now, if I am mixing a multitrack recording or a stem project for a client, I have a completely different approach. I am much more methodical. Since I primarily focus on dance music, I typically start with mixing the kick and bass to make sure they have a harmonious relationship. Once those two elements are playing nicely, I have a good foundation and reference point to mix the rest of the track around. I then focus on the rest of the drum and percussion elements, then vocals if there are any, then other midrange elements such as synths, keys, guitars, etc. I usually find that if I have my lows and highs under control, it makes it easier for me to place the midrange elements where I want in the mix.
In Mastering sessions, the first thing I do is listen. I listen to the track and make sure there is nothing that could be fixed in the mixing stage. After a final mix down is established, I then focus on cleaning up any frequency buildups with EQ and multi-band compression. That leaves me with a clean pallet that I can then sweeten to taste. After the fun part is done, I check across multiple mediums to make sure the master is translating properly, listening for depth, clarity, and separation with every listen. Then, after I have everything translating the way I want, I dive into all the technical bits with SRC and bitrate conversion, LUFS normalization, etc.
What is your favorite EQ plugin?
Basically anything from the Acustica Audio guys. Their Pearl2 EQ is the best sounding ITB EQ I have ever heard. Their plugins never fail to blow my mind.
I also have to give the FabFilter Pro-Q2 some love. If I am looking for a surgical EQ, I grab Pro-Q2.
What is your go to compressor plugin?
That is a hard one… I think I have to break this down into which one is my goto for a certain kind of compression. I can't choose just one!
VCA - Vertigo VSC-2… Ok, I guess if I had to choose one compressor, this would be it. So versatile! Punchy when you want it to be, smooth when it is needed. Can be transparent or pump your signal. A real swiss army knife of a compressor.
Optical - ACME Audio Opticom XLA-3… having the slow, normal, and fast modes on this compressor makes it the most flexible optical compressor in my toolkit. It can be dirty and aggressive when you want it or smooth like an LA-2A.
Tube/Vari-Mu - Klanghelm MUJC … for only $27, this should be a no brainer for every producer and engineer out there. It doesn't work well with every sound you throw at it but when it does work, WOW! It sounds amazing.
FET - Native Instruments VC76… my go-to drum compressor. Make individual hits smack through a mix or slap it on the drum bus, set the ratio to all and parallel compress to add some more life to your drums.
Multiband - FabFilter Pro-MB… simply the best multi band compressor on the market in my opinion.
Other plugins that you use regularly?
Airwindows! I have to give a shout out and some love to Chris from Airwindows. He is the sole man behind the amazing Airwindows plugins… and he releases all of his plugins for free (although I donate to his Patreon because it is worth it!!) I use his Console4 and NotJustAnotherDither on EVERY single mix of mine. It is like I have analog summing completely ITB. Seriously, go check his stuff out. He is a DSP wizard.
What does the future hold for Sean Raya in the music industry?
Hopefully a prosperous life filled with eccentric experiences and unforgettable adventure.
Last question, What is your favorite SoundGym Feature?
Can I say everything? haha! The games are engaging and the user interface is well thought out… but if I had to choose one thing I love most, it has to be the new community aspect of SoundGym. I have long been searching for a community filled with like minded audio heads that are supportive of each other and there to help one another grow. I am on the site every day and always see interesting conversations and people critiquing each other's mixes. It is exciting to see the community grow and I can't wait to see what the future holds for SoundGym.