Composer and Sound engineer from St.Petersburg, Andrew Deviatikh is this month SoundGym Hero.
So how long have you been on SoundGym?
I've registered on SoundGym in May 2017 but start training regularly only from April 2018. When I started training I've tried to do the workout every day, but now I'm training three times a week.
What was your first connection to music?
It's a very long story. Music surrounds me since the beginning of my life. My grandfather was a composer and had a jazz band, my father was a music lover. He met my mother also because of music. My first musical instruments was is a small children's synthesizer and xylophone :-)
When I was 8 years old my parents gave me a piano and sent me to music school. A little later I got a personal computer, ZX Spectrum, on which there was a program for music composing named "WHAM!" on which I wrote my first compositions. Later I had a PC on which I started studying programs named "trackers", such as Fast Tracker and Scream Tracker.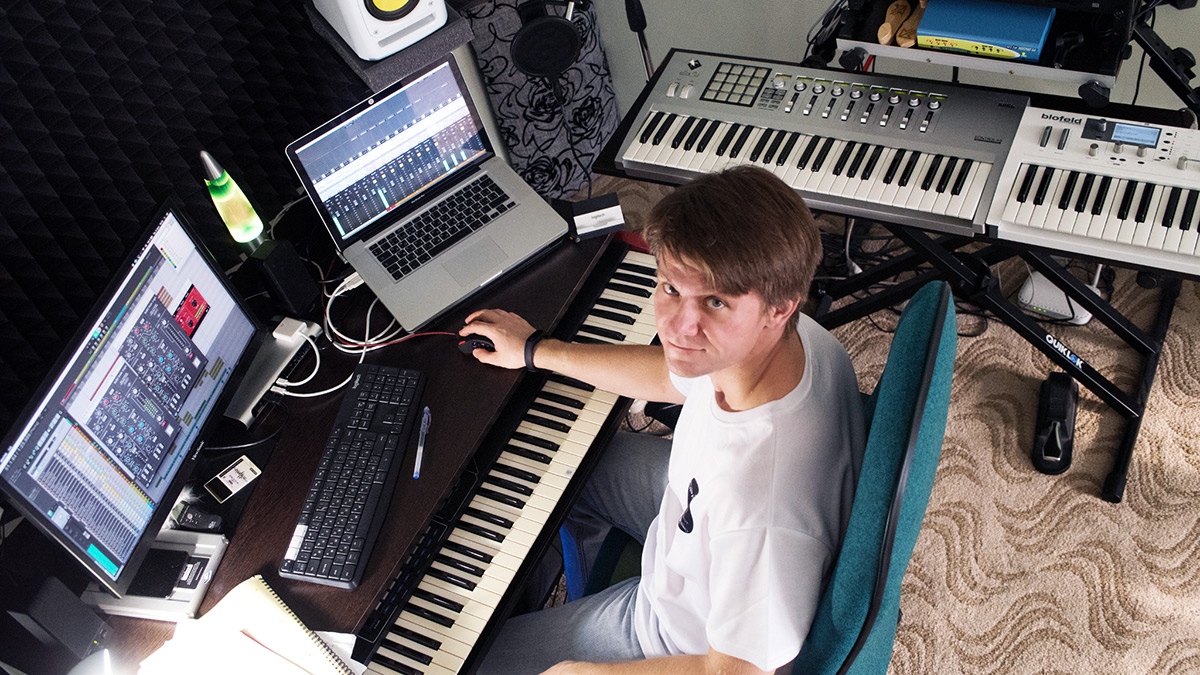 My musical taste was formed under the influence of a huge amount of music - classical, jazz, rock music, and electronic music. Traditional electronic music had the strongest influence on me - Tangerine Dream, Vangelis, Klaus Schulze, Jean Michel Jarre, Kraftwerk, and many others.
Did you get an official Sound/Production education?
I got a classical music education in piano. But most of the knowledge and skills I gained through self-education. Now, I study composing and mixing every day, read a lot, attend online courses, seminars and workshops to improve my professional level. I'm deeply convinced that in music it is very important not to stop, continuously develop and improve your skills.
Tell us all More about your project "ALONE"?
ALONE is my solo project, through which I realize my various musical ideas. I started producing as ALONE in early 2012 and initially, it was improvised music in the ambient genre. I experimented a lot with sound, acoustic instruments, and synthesis. Now ALONE performs music in the genre I've named "Spacebient" - it's electronic music at the junction of ambient, chillout, downtempo and classical electronic space music, like Tangerine Dream or Jean Michel Jarre. Working on ALONE is a kind of rest from the main, commercial musical activity.
Who have been the most significant musical influences for you?
I think it's a Pink Floyd and The Alan Parsons Project. They arrange and mixes is amazing. I think it's still sounding incredibly fresh and relevant.
Have you made music today?
I composing and mixing music every day - it's my main activity and my work now. Last days I'm working on a background music for short video captured from a drone. Before that, I was mixing several tracks to order. In between, I was recording some tracks for a new album of ALONE.
What have you been working on lately?
I started making music seriously 17 years ago, after graduating from music school. During this period, I've founded two musical projects, wrote a huge amount of music, worked as a session keyboardist in rock groups and electronic projects, wrote music for radio, theater productions, orchestra. I worked with vintage Soviet analog synthesizers for a long time, then there was a "boom of DAWs" and a period of work with VST-synthesizers. However, in the end, I went back to hardware because for me software synthesizers will never sound as cool as hardware. Now I use both hardware and software effects and synthesizers, but I like hardware much more.
Tell us a bit about your workflow at the studio?
If I work on mixing a song, the work always begins with a careful study of the material and the reference tracks. For me it is very important to understand what this music is about, what is going on in it, to place the accents correctly, to feel the groove. For mixing, I use the project template in the DAW (Reaper), which contains all the key settings, predefined busses, and groups - it saves a lot of time. I load tracks into a DAW, group them, mark up the song structure, do routing and technical processing of individual tracks. After that, I set the levels and place the instruments in the space - I believe that this is the most important stage of mixing, which makes the most significant contribution to the final result. After that, I move on to compressing and equalizing individual tracks. And only after that, I turn to the processing by artistic and spatial effects - reverb, delay and so on. At the final stage, I do automatization, parallel compression, processing of busses and master channel.
If I work on creating music, the work process is built differently. I divide the process into two stages - creative and technical. At the creative stage, I try not to limit myself - the most important thing at this stage is to create the right mood and emotions. I try not to think about balance, compression, effects, equalization, and similar things, I concentrate on inventing melody, harmony, arrangement, and sound design. At the technical stage, I mix track, impart it a finished shape. This stage requires more technical than creative skills.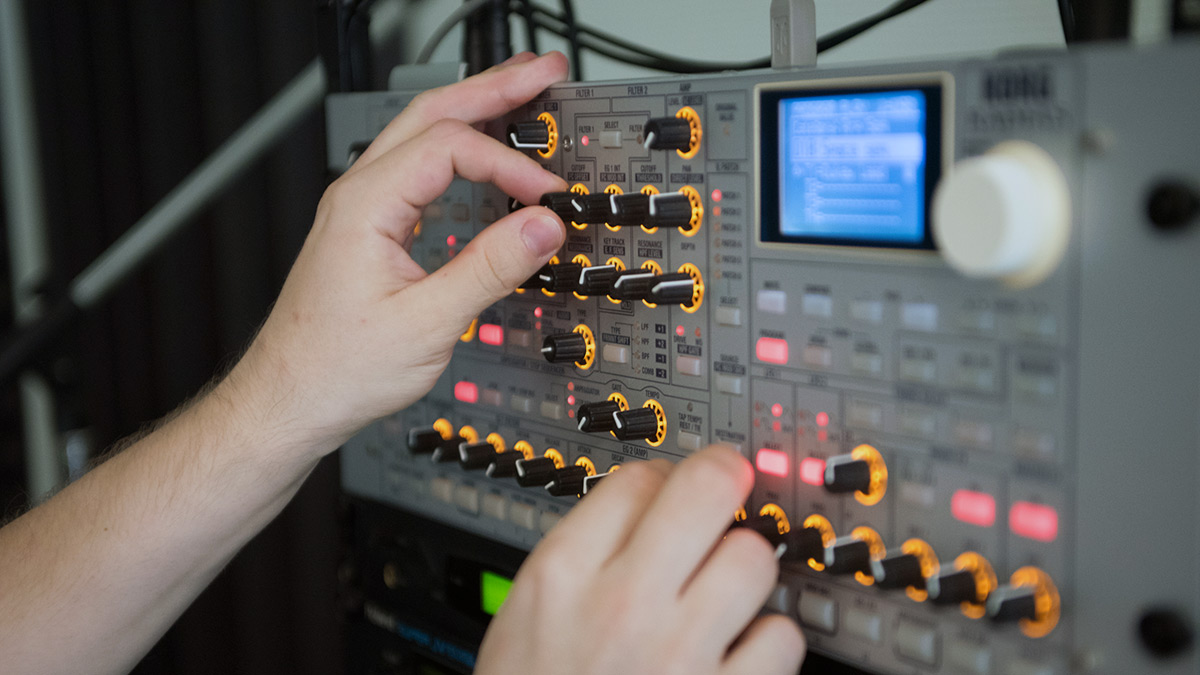 I use not only software but also hardware synthesizers to making music - this creates a lot of additional work. Most hardware synthesizers have significant limitations when working in multimode (when the synthesizer plays several timbres at once), some of it has no multimode. I have 4 external hardware synths, connected to external midi-interface, and one hardware synth as DSP-based VSTi (Access Virus on TC Electronic Powercore platform). At the stage of track creation, I need to use all of this stuff working with MIDI-tracks, at the stage of mixing - with audio-tracks. This leads to the need for proper organization of the project and a fairly complex routing scheme, especially to work simultaneously with multiple synthesizers. Fortunately, Reaper is one of the few DAWs with an incredibly flexible routing system, which solves this problem quite simply. If I need to use one synthesizer several times with different timbres in one project, then I record the part for first timbre in MIDI, after that I record this part as an audio track and do the same for the next timbre. Many people don't understand why need all of this difficulties when you can add 10 copies of the same VST-synthesizer to project, but I assure you - no VST-synthesizer sounds even close to hardware synth.
Any habits you have before starting a session?
Nothing special. Usually, I try free my mind from extraneous thoughts and emotions to concentrate on a mixing process. Sometimes, this is the most difficult for me.
What is one of your favorite production technique?
I like to use parallel compression. It's an incredibly powerful and creative mixing tool. When used correctly, parallel compression can significantly improve the sound, but it must be used very carefully because if used incorrectly, it can greatly worsen the sound.
One Free plugin that you recommend?
In my work, I use free plugins a lot. One of these plugins - Nova from Tokyo Dawn Records. In my opinion, it's one of the absolutely amazing free plugins on the market. Nova including HP/LP filter, parametric EQ, compressor with side-chain, multiband compressor, M/S processing and much more. Nova sounds very good, has a simple and intuitive interface. I use this plugin in almost every project.
Which three plug-ins you can't live without?
I'm a big fan of Universal Audio plugins. In every project I use SSL Channel Strip from Universal Audio - it's simple, functional, a user-friendly plugin with a warm sound character, emulating an analog console channel. In addition, I often use an emulation of the UREI 1176 compressor from Universal Audio. Right now it's one of my favorite compressors. Also, I like to use Noveltech Character (I use it as DSP-based VST on TC Electronic Powercore platform) - it's a pretty simple but very powerful plugin which can back to life many of the lifeless instrument tracks.
What does the future hold for Andrew Deviatikh in the music industry?
For a long time, I've dreamed of writing music for movies and video games. Last year I founded a project-studio named "Unusual Sound Studio" (unusual-sound.com) - primarily to work in this direction. I think you'll ever watch a movie with music composed by me :-)
Last question, What is your favorite SoundGym Feature and why?
My favorite SoundGym features are the three basic games: DB King, PanMan and Peak Master. I believe that the ability to hear the balance, the position of the sound in the space and to distinguish the frequencies are the most important skills for the mixing engineer, which make the most significant contribution to the quality of the mix. Therefore, if you play these three basic games every day, then in a month the quality of your mixes will reach a new level. And of course the community. It is very difficult to succeed in music without support and advice from other musicians. I believe that community is one of the most important values of SoundGym.
If you want to hear more from Andrew Deviatikh, you can do so on his Website, Facebook and his artist pages Website, Facebook and Instagram