Multi instrumental, Music producer, and part of the band Codewalkers, currently from South East Wales, United Kingdom. Ben Dabson is this month's SoundGym Hero!
Who are you, and Where are you from?
Hi, I'm Ben Dabson, I make music under the alias Radical Academy, and I do most of the sound side of things for my band Codewalkers. I grew up on the Llyn Peninsula in North West Wales then moved down to Cardiff to Study Music at Uni, and have been in South Wales ever since.
My parents still live up there and I go back often to get away and chill out. It's the most incredible part of such an incredible country.
How did you get into music?
I've been playing instruments for as long as I can remember. Then I started getting in to recording in College when my tutor Gareth Hughes Jones started a music tech course and used our year as guinea pigs. We had a Roland VS-2000cd 16 (those automated faders and a couple of Yamah NS-10. My parents got me a Roland VS-880 shortly after starting this course which I used to record my brother's band at the time, with whatever mics we could find haha. Home/portable studios have come a long way since those days.
The demo I did ended up getting my brother's band "Eryr" a slot at the local festival "Wakestock" - an AAA [access all areas] wristband for that was pretty hype when I was 17.
Production and recording took a bit of a back seat in Uni where the course was more compositional and analytical. After uni, I was looking to get back into it a bit more and found a site called IndabaMusic, where entering loads of remix contests got me a few accolades within their community and couple of remix releases, including one for Somali artist K'Naan. Sadly, they aren't around anymore, they had a great community there. I wish I had a place like SoundGym back then to use alongside that, it would have made a huge difference to the quality and consistency of my mixes.
Since then, I've been working on various projects and playing in a few bands. My band Codewalkers have been played on BBC Radio 6 Music a few times thanks to Tom Robinson and Fresh On The Net, and we've played a few cool festivals this year. We've just released a Christmas song called "Santa Is A Pimp", who knows how that will go down! I'm pretty happy with it though. I also play Keyboards in a Lady Gaga tribute act. We've played some pretty incredible shows, including Coverfest in Davos, Switzerland back in March this year, so much fun.
Now, I'm focusing a lot more on production and mixing. SoundGym has really been central in building confidence in myself over the past year since I joined, not only on the production and engineering fronts, but I've been amazed at how much it's improved my musicianship as well.
What do you like to do for fun outside of working on music?
I like the odd round of golf because even though you're playing with other people, it's such a tough game you're really just competing against yourself (at my level anyway haha). It's a good sport to teach self-improvement.
I started running a lot during the Covid lockdowns and I've made good progress on that this past year… But I don't think you can call it fun. Other than that to relax I like playing video games with friends, the odd game of pool (prefer American 9 ball, it's the best) and a weekly Sunday Dungeons and Dragons session which started over the covid lockdowns and we've continued since.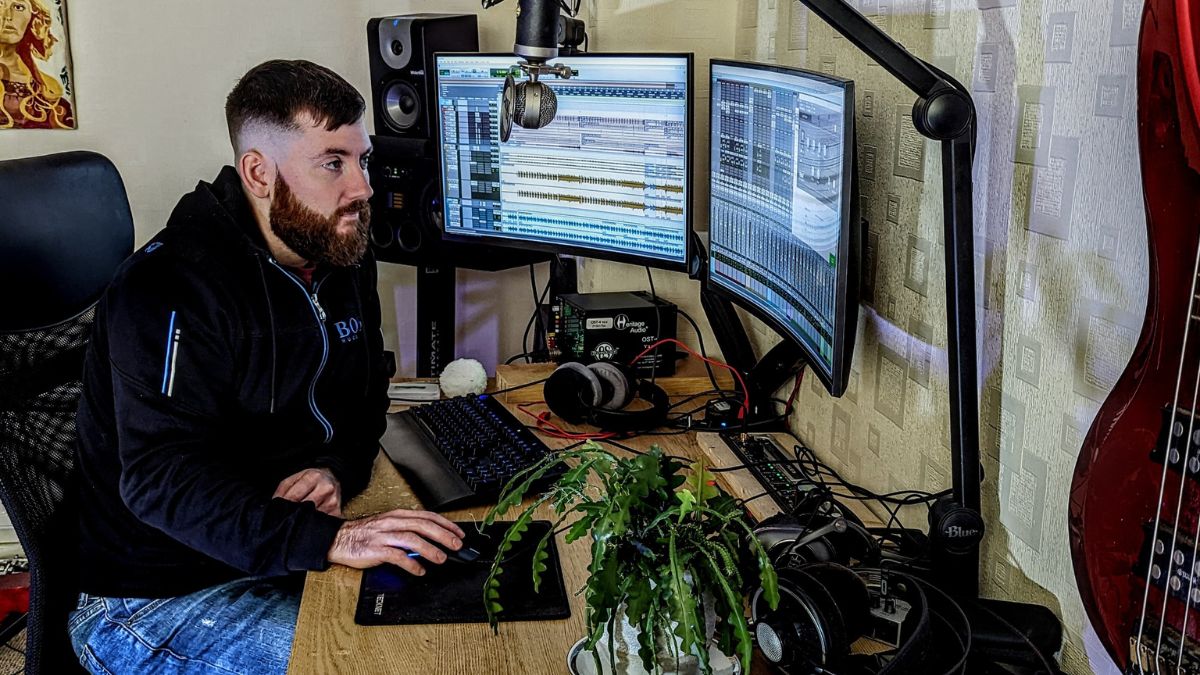 What's your most useless skill or talent?
I can make a great cat impression, although I'm currently out of practice. t seems pretty useless as far as things go. I'll get training if you want a clip of it.
What inspires you to keep making music?
I really just love making music, it's hard to describe. SoundGym inspires me atm, you do some work training then go away for a week to spend it making music and realise how important the combination of training and applying what you learn is. It's very motivating to hear myself improving.
I used to play a lot of Jazz when I was playing Sax a lot during my time at Cardiff University. I love the freedom you have to express yourself in the moment and just play what you feel like. I like to think I take the same approach when I'm composing/writing in that you'll start with thinking you're going to write a chilled downbeat track then by the time you've loaded up a synth and started writing some chord progressions or riffs you're all of a sudden writing a big room house banger.. It sometimes makes things awkward when trying to find an old project file though. My new labeling system.. "Downbeat chilled track (date) – 3" becomes "Downbeat chilled track (date) – 3 NOW BIG ROOM HOUSE BANGER - 6", I have the longest file names.
More recently I listen to a lot of pop stuff and really find it inspiring to try and imitate some of the production chops on some of the most popular records. There's really so much I get inspired by, even a new plugin, like recently I got Cableguys ShaperBox 3 which lead me back into messing with some glitchy, side-chained stuff. Used it on the most recent Codewalkers record "Santa Is A Pimp" to emulate some vinyl scratching, it turned out pretty cool.
If you could sit down to a session with any artist, who would it be?
At the minute I think I would choose Paul Turner from Jamiroquai. I love his wine-tasting and bass combos haha. Maybe we'd get some bass down as well.
Any habits you have before starting a session?
If I'm going to start working on something just after getting up in the morning, I'll load up Spotify and go on discover weekly and see what the algorithm wants to show me, I've found loads of stuff I wouldn't normally listen to through that. After that I've got to get my daily workout done on SoundGym, then jump in to it. If it's a writing session, I just start with nothing, a blank project. When writing, I believe it's about turning off your mind and just letting it go where you feel. If I'm mixing, it's more regimented, so I have a great Pro Tools template from Engineer Ariel Borujow that I can just drop the audio in and get going. It's great, CLEAN!
If you could pick one, what would be the theme song of your life?
These are tough questions... I recently heard the song "Peaceful Life" by Guts which helped me out of a rut. And who doesn't want a peaceful life anyway?!
What is your favorite piece of music gear you own?
s it too cliché to say my ears? Although, they would be more of a frustration before I started training them seriously, hah.
I recently upgraded my AD/DA so I guess my RME interface. It's really solid on Windows, never any issues or crashes because of it. Nothing kills the flow of a writing session or mix session more than software or computer issues.
Realistically though, it's probably my writing DAW, Cakewalk Sonar, but do you really own it when it's free?
What is your favorite SoundGym feature?
The community on SoundGym is awesome. I'll post a question on one of the spaces, and there is always someone about to discuss it or give feedback on your ideas. It's great. Talking [soundgym] game wise I'd say I've learnt most from the compression-based games. Actually being able to hear what different compression settings do to a sound and differentiate these has developed my mixes so much. You're training your ears to hear these things on your own system, which is so invaluable.
What does the future hold for Ben Dabson?
Make a diamond before this interview gets published. Well, now I've got something to aim for, haha. Did I make it??
I'm trying to write and mix as much as I can atm to up my game, and train of course. I'm challenging myself to write little beats and get them finished in a couple of hours (Went a bit Superstition HUH!!) as I've always struggled with getting things finished, I just wanna keep working on it. I'm finding it a great exercise and will be making the ones that I like the most into full tracks. Maybe I'll get back into doing some remixes too, so if anyone has any tracks they wouldn't mind me messing with on a Livestream or something get in touch.
Other than that, my band Codewalkers shot a live video with Swansea based Jamie Panton at the end of November. We rented a theatre up in Merthyr Tydfil [South Wales] and recorded three songs live. Here's our live version of "Santa Is a Pimp".
It was a great experience recording this and playing, although stressful working out the logistics of recording a 7 piece band with percussionist and backing vocals, it's the first time we've done such a big production. My plan was to use all our own gear to record from the mixing desk they had up there. Thanks to a last-minute suggestion from Spartan Audio in Cardiff we got a Soundcraft Si Impact [mixing] desk from them which made my life way simpler.
After spending an afternoon looking for 16 female XLR to jack cables...We could then just record over USB to laptop and really simple to set in ear monitor mixes for everyone. Really was a life saver and made the session so much simpler than my initial plan, just set it up and let it run whilst we smashed out a few takes.
I also have an EP to finish off for Welsh Chamber Pop act Derw, it's sounding pretty epic.
---