A multi-instrumentalist, singer and audio engineer, Currently collaborating with three different bands, James Gancarz is this month's SoundGym Hero!
So how long have you been on SoundGym?
I have been on SoundGym since September 2019. I had first heard of SoundGym from MusicTechHelpGuy (Joshua Carney). He had recommended this on his channel to improve aural skills and I was hooked.
What was your first connection to music/audio?
Growing up, music was a big part of my life. My father always had The Who playing in the house and my mother would have The Monkees playing in the car. When I was a young boy (about 2 or 3) my dad put a drum stick in my hand and a cowbell at my feet and said I actually kept decent time (for a drummer…).
I've always loved percussion, took private lessons through junior/high school and have always tried to challenge myself musically with different instruments (guitar, piano, bass, etc) and am definitely grateful for all of it.
Did you get a formal Sound/Production education?
I went to college for electrical engineering with a minor in Sound Recording Technology, however, I decided to withdraw from the minor to focus more on my engineering studies. Since then I have been taking online courses for audio engineering, watching/reading any resources I can get my hands on, and am grateful that my current job in engineering financially supports my interests in audio engineering.
Tall as about your own music, the bands you work with and how combining it all work for you?
I've recorded some of my own music where I've multitracked all instruments but I'm also a drummer/singer for a big band 'Dan Gabel and the Abletones'.
Working solo and working with a band has made me appreciate the importance of music theory and arrangement skills that help every engineer, I'm a firm believer in is surrounding yourself with people who are 'better than you'; it's amazing how much you can glean from listening to others and observing what make a band sound 'good'.
Working solo is fun because you get to have control over creative, technical and logistical decisions but it's when I've worked with a band that I begin to understand how little I know and what opportunities there are to grow. I also believe that being well-rounded with respect to genres is imperative to adjusting to the fluidity of audio engineering; whether it's with respect to techniques/approaches or translating creative ideas from one style of music to another.
With the big band I'm surrounded by many jazz musicians with high skill in improvisation and advanced music theory that challenge me to do the same. On my own I'm a worship leader and a bit of a metal-head, so it's fun to combine all of those in an attempt to make new music that's fresh and interesting.
We understand the music and audio engineering is more of a passion than a career for you, tall as about your day job and how you find the time to fit music into your day-to-day life?
I work as an electrical engineer for the US Navy and honestly without music I don't think I could do my job. Every day when I'm reviewing drawings or technical manuals, I like to spend that time also critically listening to music. Whether it's the new Alter Bridge album or busting out The Who, I find that there's always something to notice that either was a unique approach by the recording/mixing engineer or a creative decision by the artist.
A habit I've kept for the past few years is keeping multiple digital journals to write down some of those approaches/decisions. While I'm working I might write down a 'sweetener' effect, hook/arrangement idea, or perhaps a lyrical idea that was inspired from another artist. There's a great book 'Steal Like and Artist' by Austin Kleon which talks about taking inspiration from elsewhere and applying it to your own craft.
While I would never condone plagiarizing another artists creation, I do think there is much to be said about integrating what intrigues you as a listener into what you do as a creator.
Have you ever thought about taking on music full time?
I have! Some day I hope to open up a fully furnished recording/mixing studio in my home, but for now I'm grateful for what I have. As I said before, I'm blessed to have a career to that can financially fund this passion in audio engineering.
I also think that having my career helps take some of the pressure off possibly forcing creativity and meeting schedule constraints…however I never want that to be an excuse for procrastination!
Have you made any music today?
Yes, in fact I'm working on a couple singles for Christmas: a cover of 'What Child is This?' and 'O Holy Night'. One is very stripped down acoustic-sounding while the other will be heavier with some metal guitars.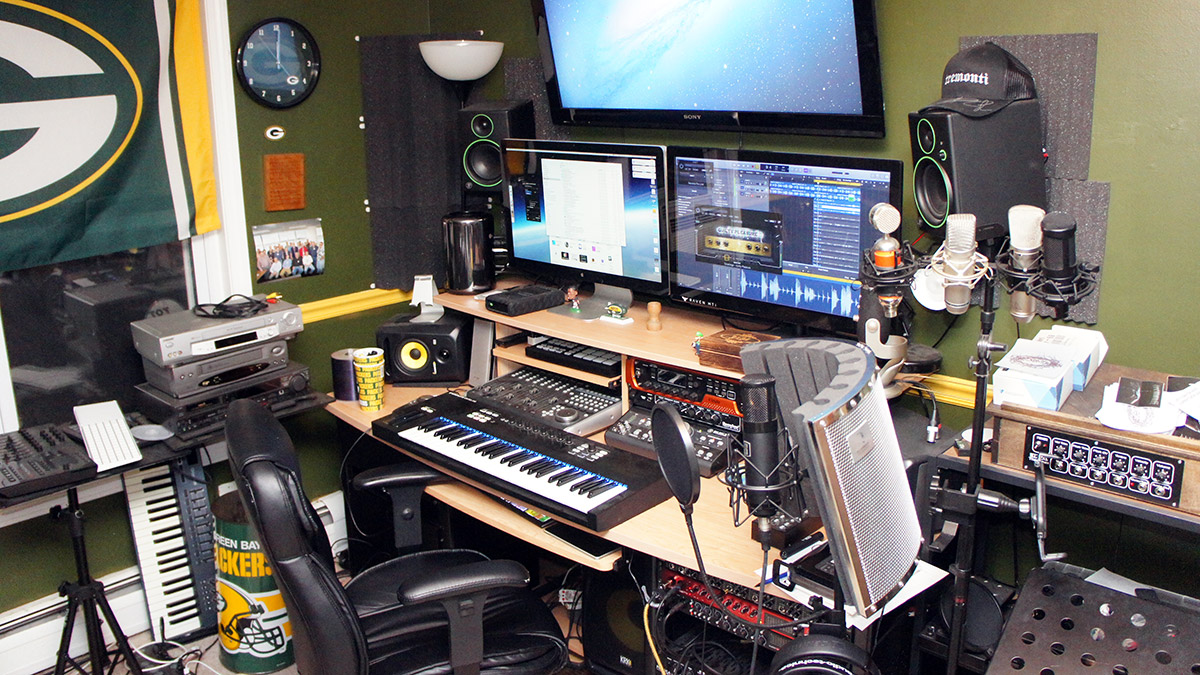 Tell us a bit about your workflow at the studio or when creating music?
In the studio, I'm a fan of the Chris Lord-Alge approach of time being the enemy. While I don't intend to rush anything, I do believe in committing to a sound or track to mitigate the possibility of 'chasing the white whale'. Using a setup mixing template is very helpful in this regard, with pre-loading plugins, tracks, and arrangement markers.
Creatively my approach is a bit different as I try not to force a song together if it isn't gelling. I admire and try to emulate Mark Tremonti who will capture guitar riffs, verses, or choruses over years and when collaborating or writing will combine them as they fit. This approach requires patience and diligence, but I truly believe it serves the song best by allowing for the cream to rise to the surface when songwriting.
Any habits you have before starting a session?
Before a mixing session, I like to listen to as many reference tracks as possible. With the internet, we're truly blessed to have millions of lessons and aids at our finger tips within a matter of seconds, so I try to take advantage of that and see if there are any songs to reference which match the feeling and character of the song that I'll be mixing. Before a songwriting session, I love to grab my acoustic and load a good backbeat groove into Logic Pro to mess around with.
It's amazing what a few hours of looping and recording can do for generating some interesting riffs and phrases.
What is one of your favorite instruments and why?
Hands down it's my Line 6 JTV-59 Variax Les Paul electric guitar. Having the ability to change tunings on the fly or change tonal character (from an acoustic to a Stratocaster, to a sitar), it's incredible for inspiring creativity.
One Free plugin that you recommend?
Definitely would recommend Valhalla FreqEcho from Valhalla DSP
Which three plug-ins you can't live without?
1. Ozone Advanced by iZotope
2. Pro-L 2 Limiter by FabFilter
3. Melodyne by Celemony
Favorite piece of studio gear?
For Mixing: Mackie Big Knob. As lame as this might sound, the Big Knob is so helpful for A/B-ing mixes and the 'big knob' makes cranking the volume a piece of cake.
For Songwriting: KordBot by Isla Instruments. The creative potential out of this badboy is endless!
What does the future hold for James Gancarz in the music industry?
Hopefully, it's bright! I have a Christmas album coming out with the big band later this year, another album with a 1920's Dixieland group I play with, a few singles of my own, and starting next year I'm hoping to finish an EP as well as kick off a new side project 'HY-80' which will be primarily hard rock/metal. I'm also grateful to collaborate with a buddy of mine in a group called KingdomBorn which is a blues/rock group; hoping to have an album out next year as well. Looking forward to a year full of music and learning!
Last question, What is your favorite SoundGym Feature, and why?
Without a doubt, it's 'EQ Cheetah' – this feature alone has improved my EQ listening skills immensely!