Electronics engineer with a hobby and passion for recording and sound/video production, Krzysztof Ratyński is this month SoundGym Hero!
So how long have you been on SoundGym?
Well, I'm a newbie here I discovered SoundGym in November 2018 and then I started intensive training and learning.
So my presence on SoundGym is short and not even a year has passed. That is why I was shocked by your invitation to this interview
What was your first connection to music?
Music accompanies me from the very beginning because my Dad is a musician. So in our house, someone always played or listened to music.
Even as a small child, I went to concerts with my parents and absorbed music with all my senses. And because the band my Dad plays in creates entertaining but difficult music with many elements of the classics, I had great role models to learn.
Did you get a formal Sound/Production education?
No, when it comes to sound production I'm self-taught. But for a few years in my childhood, I went to music school (piano class), where I gained basic musical knowledge. Unfortunately, I have already forgotten a lot of it but it still helps me a bit at work in the studio.
Tell us about your company "Enterius" and the connection to Audio?
My tiny company called Enterius mainly produces electronic devices for LED light (I am an electronics engineer) and in this matter it has nothing to do with sound. However, as Enterius, I also operate in the field of recording and sound/video production, although this is rather a secondary and mainly my hobby activity.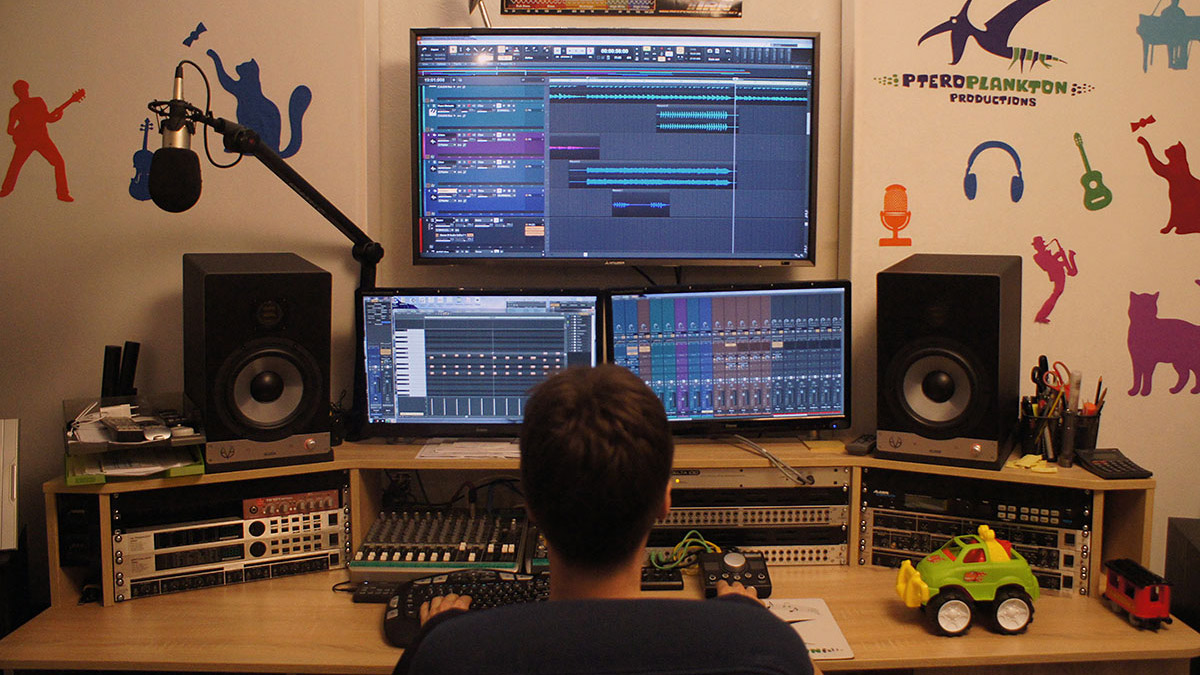 I made w few short video adverts for Jagiellonian University, created some soundtracks for amateur movies and adverts and as the owner of quite a radio voice recorded a few voice overs. But it's definitely not a professional activity. My approach is that while I'm still learning this art I shouldn't do it professionally.
I don't think I'm good enough to take money for it from people That's why I mainly play, learn and experiment, and from time to time I help my friends or Dad with recordings or sound production for films and commercials.
I also work with my wife, who is a great singer but also only does it as a hobby.
Who have been the most significant musical influences for you?
Gee, it's a very wide group of artists Dad taught me that it's good to listen to many different genres of music to broaden my horizons.
I listened to such various artists as Pink Floyd, Michael Jackson, Sandra, Enigma, Sting, Europe, Pet Shop Boys, Mozart, Bach or our Polish Chopin.
And this is just the top of the list. However, I think my favorite genre is progressive rock and its derivatives.
I love bands like Galahad, Pendragon, Camel, Arena, Fish and for example from the younger: Blackfield. My Dad's band also played very interesting music that touches prog-rock but has elements of folk, pop, and classics.
In addition, we have many interesting musicians and bands in Poland that are not known in the world, which is a shame.
Tell us about your work with the polish group "Skaldowie" and the family connection?
Well, actually it's not exactly that I cooperated with the whole Skaldowie band. I know every member perfectly since I was a child, but it's a private relationship.
My Dad plays bass guitar, sings and sometimes composes there.
The band's official recordings are usually made in professional studios and there are a lot of them, because "Skaldowie" is a prolific band and have released over 30 albums!
On the other hand, I often together with my Dad record his solo compositions in a home studio, among others to check if they are worth attention.
Sometimes, until you record even a few tracks and hear them together, you really don't know if something cool will come out of the idea.
So we experiment. But some time ago the idea appeared to release the album of "Skaldowie" with previously unpublished recordings of its members.
And on this album came three compositions of my Dad, which we recorded together in my home studio. In addition to making the recordings, I also did mastering and programmed drums there.
Dad played all instrument parts and sang.
Have you made music today?
Unfortunately not and I regret it very much. But a few months ago I have become a Dad and this tiny, beloved Man absorbs me completely Recently, I haven't even had enough time to practice on SoundGym However, I plan to change it soon.
Tell us a bit about your workflow at the studio?
I don't think I have any highly repetitive schemes.
But I like to prepare well, so I always do tedious things at the beginning, such as describing tracks, coloring and grouping them, or even cleaning the studio Home studio has this disadvantage that during breaks at work it serves as a wardrobe, shelf and storage Especially with a small child.
Once I have everything prepared, I start recording.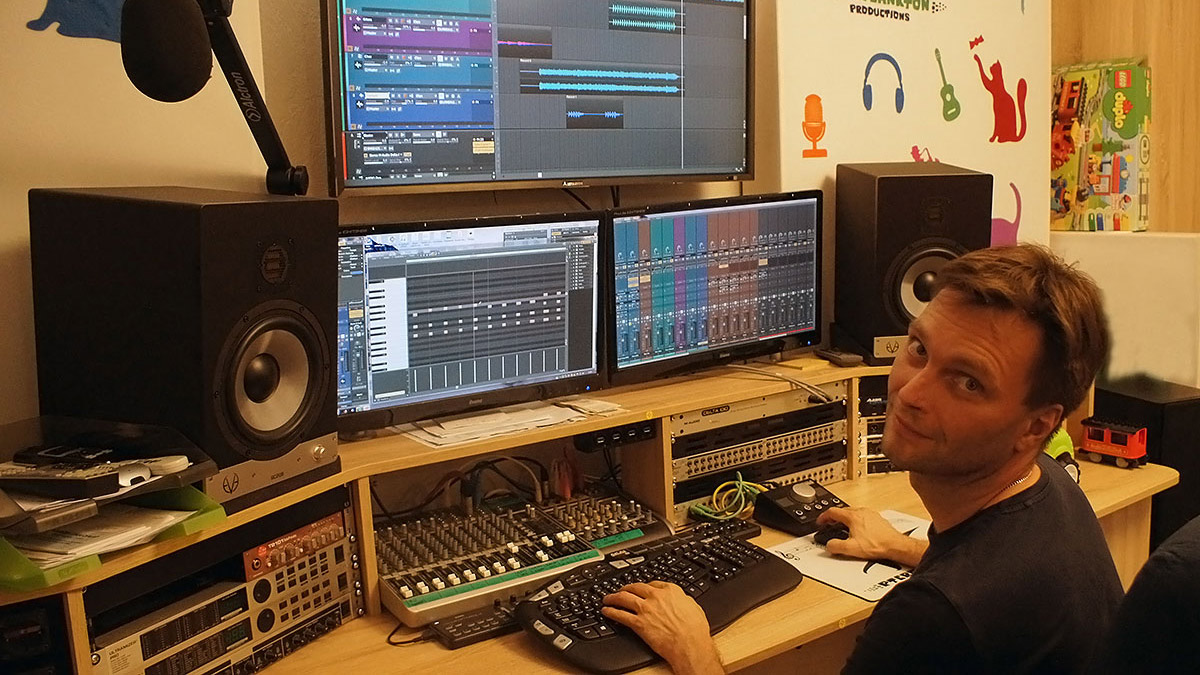 The order here depends on the type of music but I usually start with midi instruments.
Once everything sounds nice in MIDI, I record these tracks as audio.
Then I record live instruments (if there are some) and finally vocals.
But sometimes I reverse the process and start with the piano and vocals to then search and play other things. I do this mainly for my own compositions (yes, sometimes it happens to me), which are not yet closed and defined.
Once I have all the tracks recorded, I start by cleaning up any problems (noise, crackles, bumps, etc.), and then adjust the volumes as accurately as possible. If the proportions are OK and nothing else can be improved there, I get on with EQ. And then I refine what is needed with compression, other effects or automation.
But it is very important to take breaks, because otherwise the ears get used and you start doing stupid things So sometimes I just leave everything as is and return another day to check if I didn't miss anything.
This is what it looks like in a nutshell.
Any habits you have before starting a session?
Yes. I like to listen for a while to a few of my favourite songs just to adjust ears to what I want to achieve.
If the session is for a client/friend I ask them for a reference and I listen to it. It helps to calibrate yourself properly
What is one of your favorite production technique?
I don't think I have one Maybe after years of experience I will develop a few. But for now I just do what I think is necessary in each particular case. Or I experiment (this I do a lot) :)
One Free plugin that you recommend?
This is a difficult question because I usually use plugins provided with the DAW.
I work on "Sonar" and I have almost everything I need in the package. However, I can recommend the "Voxengo SPAN" plugin, a spectrum analyzer that I often use instead of the one built-in in Sonar. It's fast, accurate, readable and I like it.
Favorite piece of studio gear?
I have two The first are Eve Audio SC208 monitors, which sound fantastic for their size and price. I love listening to music on them.
My second favourite is Kurzweil K2600X synthesizer, which is already very old but its capabilities are often much larger than many newer instruments. I really like its weighted keyboard, that behaves almost like a real piano (though a professional pianist would probably not agree with me).
Which three plug-ins you can't live without?
I can live without any external plugins, because as I said earlier Sonar has all the tools that I need for my work so far. Maybe as I improve my workshop, it will turn out that I need something more but for now it is enough. As for the internal Sonar plugins, I usually use the wonderful ProChannel, which is very versatile, rich and easily configurable.
In addition, as an integral part of each channel it does not take up slots for plugins.
I also often use multiband compressor from Sonitus, which is simple and easy to set up, but sounds very decent.
And unless I'm working on instrumental music, I almost always use the VX-64 Vocal Strip. It actually has everything you need to create a great-sounding vocal. And it is visually presented nicely, which makes settings easier.
What does the future hold for Krzysztof Ratyński in the music industry?
This is a question to a fairy rather than to me But if my dreams were to come true, I would like to learn the art of recording well enough to start working professionally in this field.
And I would like to work with musicians whose songs I like, because there is probably nothing worse and more boring than recording music that you don't like I would also like to have enough time to come back to composing my own music. But will it all come true, time will tell ...
Last question, What is your favorite SoundGym Feature, and why?
Well, I like SoundGym as a whole because it is a very well thought out and organized space for those willing to learn and practice
For me, however, probably the most valuable are daily workouts because they give the best and measurable effects. In fact, since I started training, I hear much better and it is much easier to make my decisions at work instead of going blind, as I used to do before.
I also like the social part, where, for example, people ask other users to listen to their recordings and write opinions. This is an interesting and valuable exchange of experiences that I will definitely use one day.
For now, I'm a bit ashamed, because I can hear that my recordings do not sound like I would like them to That is why I am very surprised that you chose me to be the SoundGym hero. But I promise that I will practice and study patiently to deserve this title one day.
Thank you very much for this distinction.