Bass guitar player, Sound engineer and Part of the instrumental post-rock trio Transmission Zero, Krzysztof Rutka is this month's SoundGym Hero!

So how long have you been on SoundGym?
I joined about six months ago, I just finished a sound engineering course in a studio in Kraków and I was looking for a way to continue working on my skills. I already knew about SoundGym, but it was around my birthday, so I decided to go for it and bought myself a subscription.
What was your first connection to music/audio?

I don't remember not being connected :) My parents introduced me to music when I was young. My dad plays acoustic guitar and I remember singing old Polish songs with him and my brother. In primary school, I discovered bands like Pink Floyd, Metallica, and Black Sabbath and fell in love with heavier music. That drove me to bass guitar and where I am now, playing in a post-rock band, creating my own music and learning how to record and mix.
My music tastes changed over the years, but the connection with music is still as strong as ever. I was always interested in how things work and I studied computer science, so I see my interest in audio engineering as a natural progression in my musical education.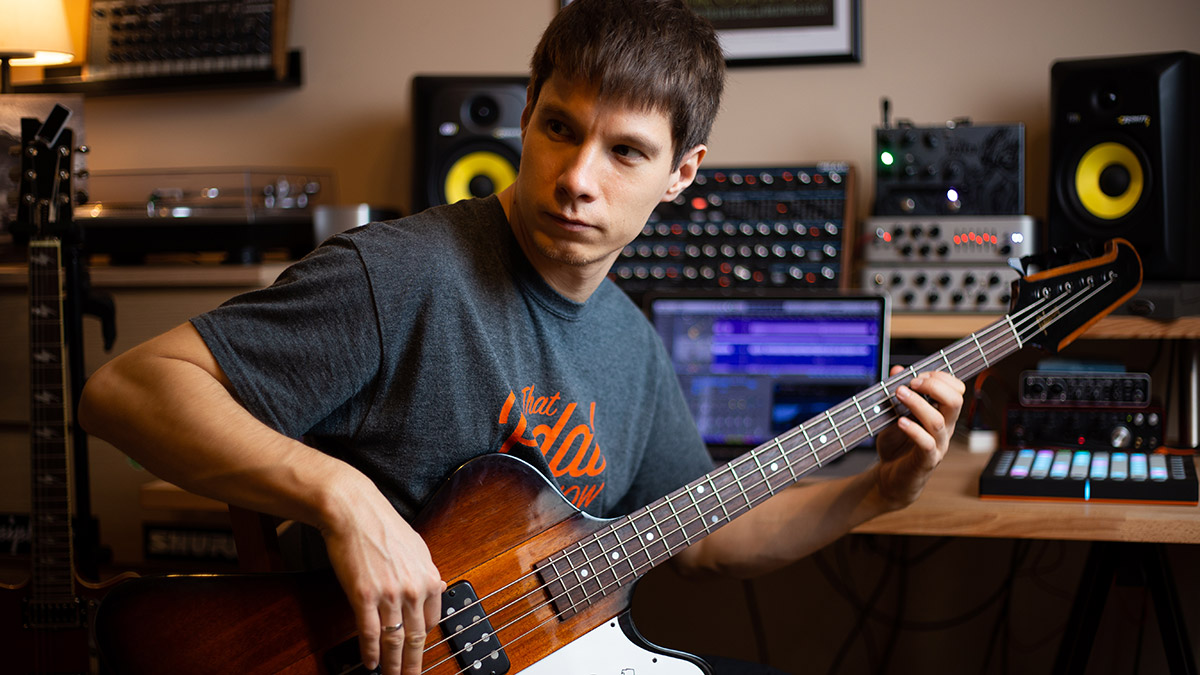 Did you get a formal Sound/Production education?
Not really. I never went to music school or studied sound engineering. I learned mostly from just playing instruments, watching online courses and trying things out myself.
Tell us all about your project Transmission Zero?
Transmission Zero is an instrumental post-rock trio I'm involved with for three years now.
We started the band with my friend and guitarist Jacek in 2016. We were already playing with an idea of doing something together and during the summer that year we took all our gear to a house in the country and came up with the first Transmission Zero songs. When we came back to Kraków, we found a drummer, finished our initial material and started gigging. In those early days, we were very lucky to support great bands like Lost in Kyiv, Set, and Setting, Blanket or Nordic Giants, which gave a lot of confidence that we're going in the right direction.
About a year later, after the first drummer left the band we started playing with Sebastian, who introduced a lot of power into the band, both in terms of his playing and engagement. He quickly got up to speed and with this lineup, we continued to gig and work on the songs that would become our debut album.
In June this year, we released a full length, self-titled album, recorded a year earlier in Nebula Studio in Warsaw. You can find it on Bandcamp, Spotify, Youtube, and a few other places. go have a listen! We're super proud of how it turned out and we're already working on new material and hope to reach an even wider audience next year.
I'm also really happy that songs from `Transmission Zero` were converted into training samples and you can unlock them in
Soundgym`s store.
Being able to learn with your own music is amazing for me and I hope other people will enjoy it as well.
Have you made any music today?
Yes. It's not always the case, but currently, I'm working on a new project that will be announced soon, so I'm preparing and learning bass guitar parts before the next rehearsal.
Tell us a bit about your workflow at the studio or when creating music?
I like to have everything set up, connected and ready to make noise. When creating music I usually start with playing around with different motives and effects until something grabs my attention. Then I record it, start adding layers, program some drums and arrange it into a song. I try not to go too deep into mixing when I'm recording, I like to separate those two processes.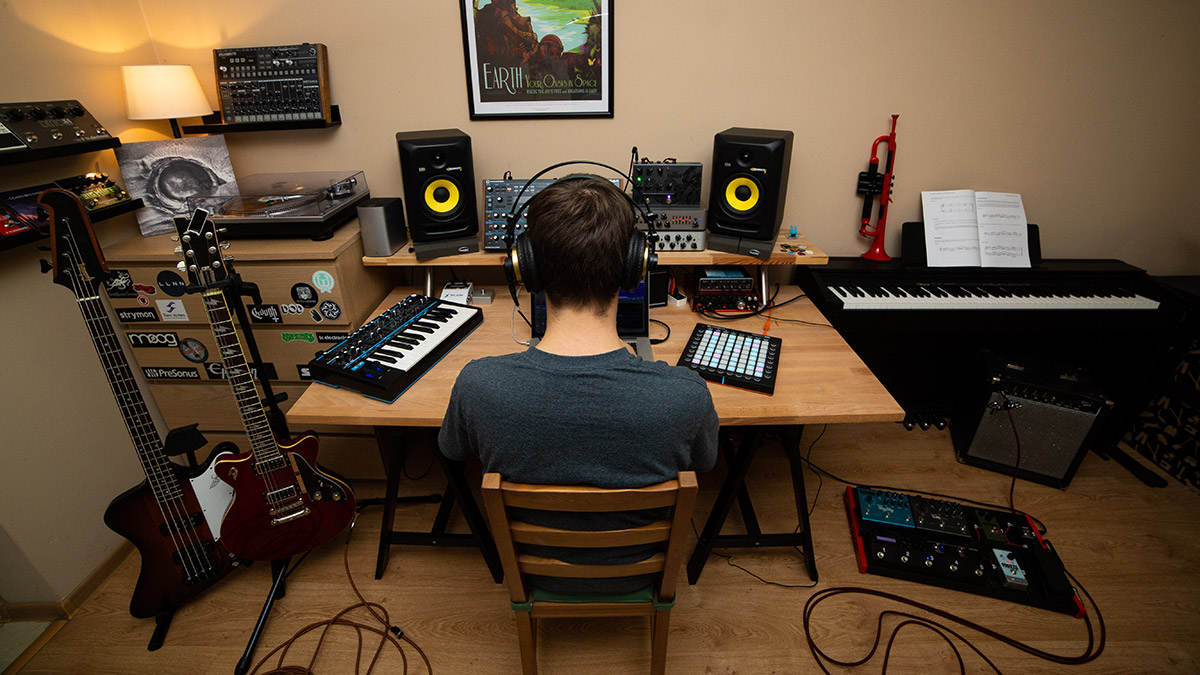 I try to get the best possible sound and commit to what I'm recording, so I don't need to go back and rerecord too much stuff later. When I'm satisfied with what I created, which usually takes a long time from first an idea to a finished song, I start working on a demo mix. For now, I don't have any elaborate mixing workflow, there's a lot for me to learn in this field:)
Any habits you have before starting a session?
I usually grab a cup of good coffee and a notebook.
What is one of your favorite production techniques?
As a bass player, I'm focusing a lot on how bass guitar is recorded. I would say my favorite technique related to this is recording both clean DI and overdriven tone and making them work together. It's amazing what you can do with those two tracks by applying different kinds of eq and compression.
For the guitars, especially post-rock guitars with lots of delays and reverbs I'm really into dry-wet rigs. Having control over the dry blend level and using different plugins on the wet signal when mixing is a very useful technique.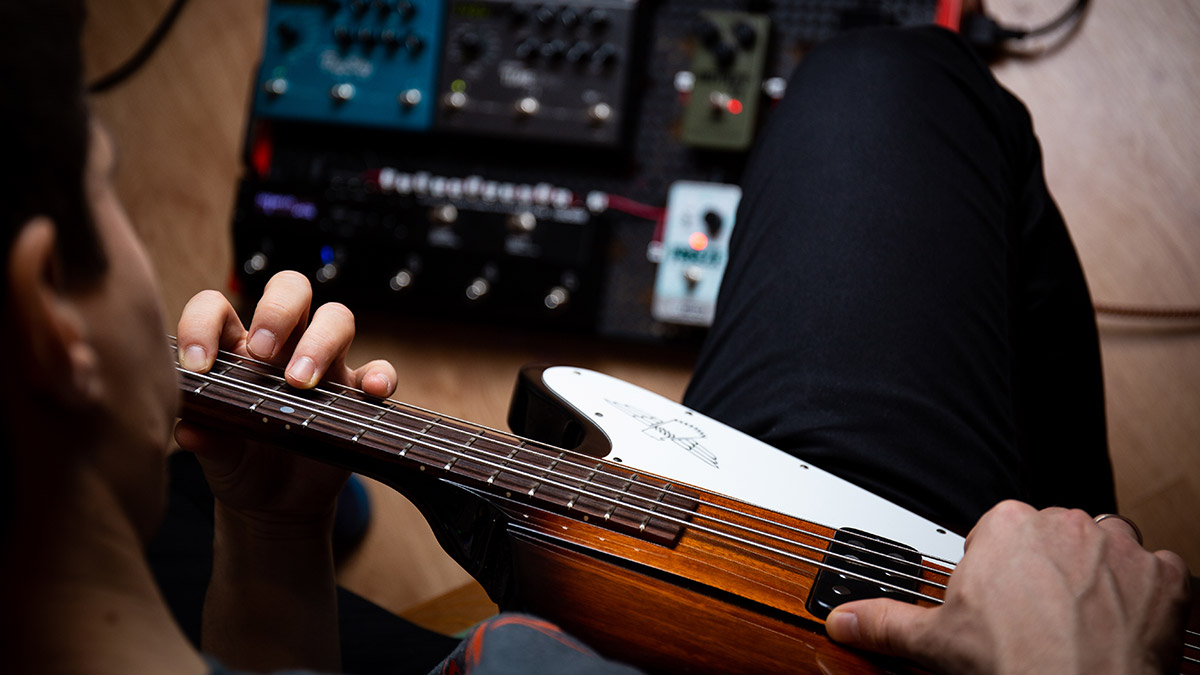 One Free plugin that you recommend?
I use stock Logic plugins and haven't used any free plugins for a while now, so, unfortunately, I can't recommend anything.
Which three plug-ins you can`t live without?
I don't own a lot of plugins and I feel like the music itself is so much more important than the tools you use. You can have the best studio gear and plugins on the planet, but if your ideas are not good you're not gonna make good music.
Nevertheless, I really like FabFilter stuff, especially the eq and reverb.
I love what Neural DSP is doing with guitar amp modeling, the new Archetype from Nolly sounds great.
And I couldn't do it without Modern Drums from GetGood Drums. Having an amazing drum library for practicing and making demos is essential.
Favorite piece of studio gear?
Recently I got a new Darkglass Microtubes 900 v2 bass head, which is a killer! As a rock bass player having a solid overdriven tone is the most important thing.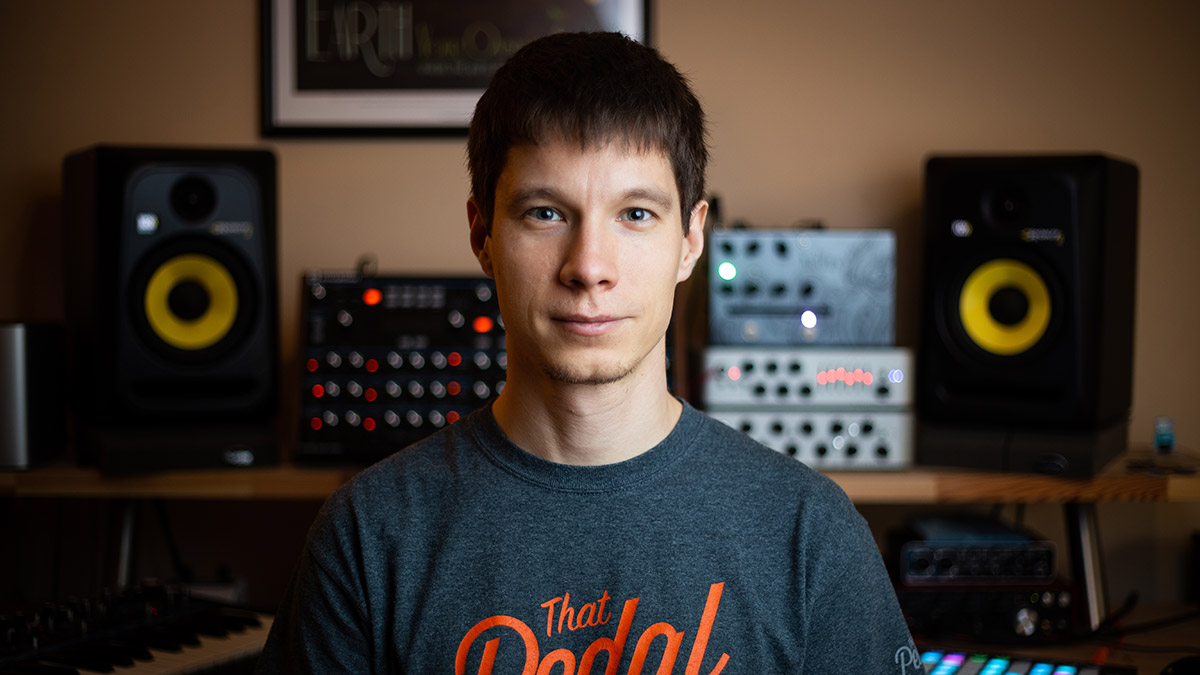 What does the future hold for Krzysztof Rutka in the music industry?
With Transmission Zero I hope to play more gigs and release a second album next year. Very soon I will have a pleasure to announce the second project I'm working on right now. As for myself, I want to keep learning, becoming a better musician and sound engineer.
Last question, What is your favorite SoundGym Feature, and why?
That would be the daily workout routine. There's something very well balanced about it that keeps you coming back to learn a little more every day