Professional guitarist player, Completely self-taught producer and Music Technology lecture, @Lee Franklin is this month SoundGym Hero.
So how long have you been on SoundGym?
I've been using SoundGym since May 2016. I've certainly noticed a difference in the way I listen throughout using it all this time.
What was your first connection to music?
The majority of my family isn't musical at all, so my first real connection to music was from my older brother. I got a guitar for Christmas when I was 3, and as my brother was learning he showed me how to hold it and play simple melodies. This gave me a musical identity very early on!
I've picked up the guitar every single day since then, practicing for 6-7 hours a day in my teens and early twenties. I've since been able to earn a living as a professional guitarist, playing in all kinds of bands at all kinds of venues, teaching guitar and doing sessions in studios. This is where my love for the studio became apparent.
Although, I still play in bands and session guitar – I've set my sights on the studio, creating everything from Electronic and Sound Design tracks, to Jazz and Pop live recordings.
Listened to your tracks on SoundCloud named #1-8, Tell us more about that project?
In a nutshell – they are all experiments. That's really it... I'm always listening to new artists, getting inspired by new sounds and learning new things in the studio. So, each new track represents something fresh for me in some respect, an experiment into something new.
It all started with #1, which was really inspired by the Stranger Things soundtrack – I loved the sound of the analog synths (noise and all) and wanted to try and recreate some of the sounds and textures that I heard. Although it really doesn't sound anything like the music in Stranger Things, it was a great starting point for me to create electronic music. Since then, I've tried to incorporate analog sounds into all my music.
#3 was one of my favorites to work on, as it was such a struggle at first! I just couldn't get it to sound how I wanted to! After a long uphill battle, I finally finished it! What a great feeling that was, I'd learned so much – it's so important to finish what you start – even if it kills you!
#6 was mostly created from samples. All the samples were recorded on a trip my wife and I took to Belgium. I challenged myself to create a track from all of the sounds around us. It was a really illuminating experience, recording all the sounds around us with a view to them being musically interesting in some vague sense. In the end, I used them all. They all had something to bring to the track in their own way – that was a lot of fun!
My latest track, #8, is an experiment with glitch breaks as I've been listening to a lot of Aphex Twin in the last month or so... I can't wait to start #9 – I have no idea what it with will sound like!
Who have been the biggest influences on you and how do you think they've shaped your sound?
I'm really influenced by all kinds of music, I have quite an eclectic taste – which I think is important.
Currently, however, I'm listening to J.Views a lot - for electronic music, it is incredibly organic sounding, with samples being recorded from all kinds of objects in nature. This really resonates with me and has influenced the way I produce music at the moment. The album 401 Days is amazing!
I'm also really influenced by Benny Greb. In my opinion, he has one of the best drum sounds around and his approach to rhythm is really inspiring. This really influences what I do with drums on many of the live recordings I mix – like the F.R.W. Trio videos on YouTube (Check us out!).
There are a few tracks that I'm hooked on at the moment:
We Belong Together – Rickie Lee Jones
Bloom (J.Views Remix) - RKCB
Something For Your M.I.N.D. – Superorganism
Mrs. Thomas – Benny Greb
Home Invasion / Regret #9 – Steven Wilson
No doubt that list will be different tomorrow!!
DId you go to an official Sound/Production school?
As far as sound and music technology – I'm completely self-taught. I went to university to study music, however this was performance based. I've since learned everything I know about sound the old-fashioned way – asking people and reading books.
I'm constantly watching tutorials, reading books and just surrounding myself with it as I'm always learning and experimenting in the studio. I think if you love something enough, you will be motivated enough to push yourself forward and learn. That being said, I've actually just been accepted to start my Masters in Music next year.
Currently, I'm lucky enough to lecture Music Technology at a College in Kent – one thing I've found from doing it... teaching really is the best way to learn something!
Have you made music today?
I'd like to say yes – but no. Sometimes it's just not possible to get in the studio every day, but that's not to say I'm not doing something musical. I listen to music every day, and I'm always reading about it! I'd be happy if I could get in the studio every other day – but the guitar isn't going to practice itself, and the Cat needs feeding!
What have you been working on lately?
Lately I've been working on sound design for a production of Macbeth. It's been a lot of fun experimenting with different approaches and distorting/warping sounds with SPEAR. It's quite a dark and industrial approach to the story, so the sound design really reflects this. No doubt I'll post some links on SoundGym to it when I'm done!
Tell us a bit about your workflow at the studio?
This is always changing! I always tend to work in Logic, although using Pro Tools and Ableton as well too. If I'm creating a track from scratch, there really isn't much of a flow to be quite honest. I just do what I hear in my head and if it sounds good, it must be right!
If I'm mixing and mastering a band project, or recording guitar for a session, then it's a little more regimented. But I'm a bit all over the place when it comes to my own work!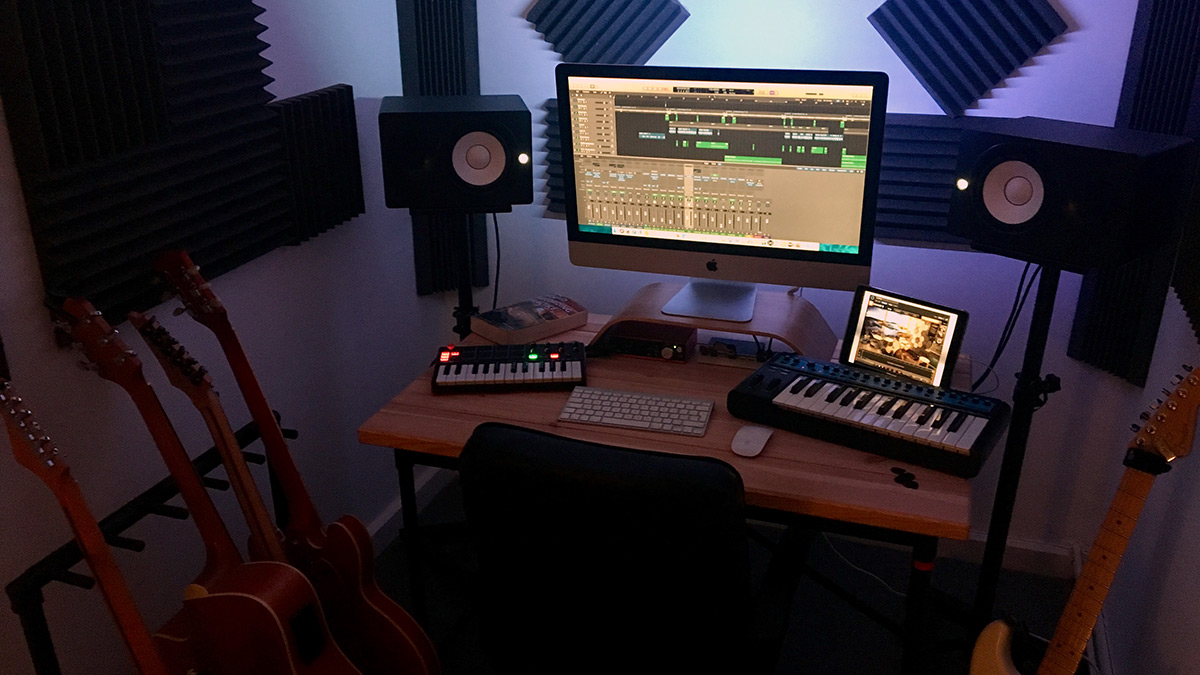 Any habits you have before starting a session in the studio?
Not really – although I'll usually make myself a coffee!
What is one of your favorite production techniques?
This is a pretty tough question, but if I had to choose for a band mix, it would be parallel compression. It just adds so much punch to the low end if you use it on your kick and bass - it can really add some much-needed glue too!
However, on my own work – adding noise. It's weird, but adding the right kind of noise or hiss to a track can really make it sound more analog, organic and real sounding. But that's just my opinion.
One Free plugin that you recommend?
The Tokyo Dawn Labs Kotelnikov compressor is fantastic. For a free compressor – it's genius!
Which 3 plug-ins you can't live without?
EQ, Compression and Reverb. As simple and boring as it is, in any form these are the essentials to everything I do. I think this is probably true for a lot of people – keep the fancy stuff, these are all you need for a great mix!
What does the future hold for Lee Franklin in the music industry?
I really couldn't say – I'm always experimenting and exploring music, who knows what will happen. I'd just love to be able to make a living from what I do – that's the dream.
Last question, What is your favorite SoundGym Feature and why?
There are so many features that I love about SoundGym, from the amazing community to the games themselves. However, my favorite feature is the EQ Cheetah. It really adds an extra dimension of pressure to the game, which really pushes my concentration to hear those frequencies! I've really noticed a difference in the way I approach EQ in the studio now. Thanks for that!