Multi-instrumentalist, Working as a producer and mixing engineer, @Ľubomír Mazák is this month SoundGym Hero.
So how long have you been on SoundGym?
I`m relatively new on SoundGym. My training adventure on SoundGym started at the end of May 2018. I try to do the workout every day but I`m an active musician and it`s not always possible.
What was your first connection to music?

It was a long time ago. I can say that it was at the beginning of my life. My family is very musical. Father had a band, grandfather had a band, mother studied the piano, sister is very good saxophonist and everyone from my family had and has some musical instrument. In our house was a lot of music.
Our garage was my father's band training room and I was here every day when I came to kindergarten.
My first musical instrument was a small children's keyboard because my father plays on the keyboard and I wanted to be like him. Later, when I was watching on the TV and I saw some rock group, I wanted to be a guitarist. I was listening to bands like Metallica, Nirvana, Deep Purple, Mr.Big, Van Halen etc.
DId you get an official Sound/Production education?

When I was young (about 3-4 years), I started to visit the music school. I was studied recorder, clarinet, saxophone, guitar, piano, and vocals. Later I studied guitar and music at university.
But I`m always interested in the technical sector of music. I remember when I was about ten years old, I have recorded my songs with mic from headphones for Skype calling. It`s very funny for me at this time.
When I was recording my first album in a professional recording studio, I fell in love with it. In this time I was 14 years old. I was interesting all things like mix, plugins, equipment and so on. Next recording it was the same but in another studio. And next, too. This is my education in studio work. Conversation with masters and sound engineers.
In this time, I study sound and mixing online every day. But I want to go to some seminars and workshops to the other countries and improving yourself in this sector of music.
Tell us more about your work as a producer?

My work as a producer started at the beginning of this year. I was making some songs for my bands and my friend and very good bassist Pavol Smolka told me that my work is very important and gave me the first customer (February 2018). Since then, I've been working on albums of many Slovak artists and I'm looking forward to great satisfaction. These songs, you can listen from Slovak radios, in this time. I`m so happy about it.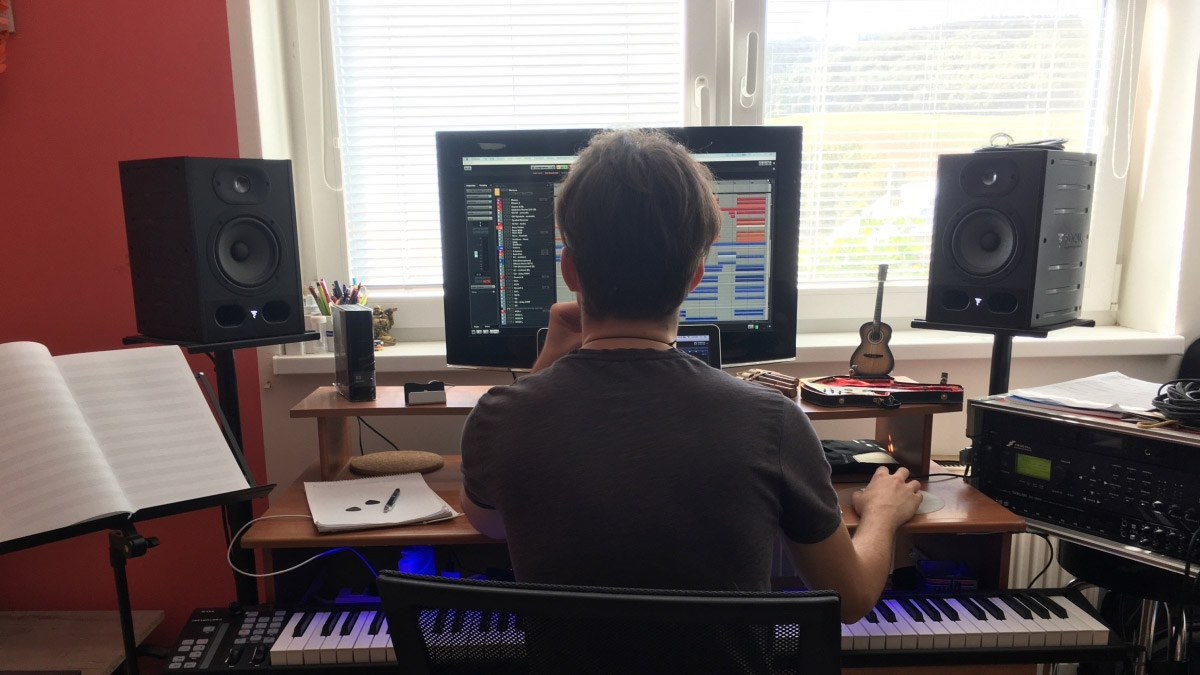 I'm recording at my place (training room of my band) or anywhere but I have a mobile rig. For a lot of my customer is super. Mixing work, I`m working at home in my home control room. I want to find some place where I will have record and control room in one place.
I`m trying to help my customer with anything. I have contact to a fantastic graphic designer for their album, photographer, video maker or many musicians with any instruments.
Who have been the biggest musical influences for you?

Recently, my musical influence is Coldplay. Their mixes are for me unbelievable and in their songs I like a lot of emotions and moments when a man likes to cry out of luck.
Nevertheless, I`m rock guitarist and rock music is very high in my heart. I like modern rock music (Alter Bridge, Foo Fighters etc…).
The biggest musical influence of the guitar world is Steve Lukather, for me.
But I`m open for more style of music. I`m in a jazz mood sometimes, or American blues. I love Eagles and their vocals harmony. Coldplay for their magical moments of song. Beatles for their harmony. Foo Fighters for their energy on stage. Toto for their songs conception and rhythm and a lot of solo albums of guitarist how John Petrucci, Steve Lukather, Paul Gilbert etc. And I like old pop music because of Few musical instruments and maximal arrangement.
Have you made music today?

Of course. Music production is my work now. In these days I`m working on a song of Slovak artists Roman Nadányi.
Today I adjust song ,, Moving` by Andrea Turčina. She`s making video clip on this song in Brighton.
What have you been working on lately?

I`m new in the work of a musical producer but I`m making albums and songs for my bands last years. I was working on two albums for my band ŠLEHA (this album was recording in the best studios of Slovakia), a few songs for my good friend Martina Žovincová and of course a few cover song with many friends, musicians and with my amazing girlfriend.
This year I finished first EP album for Andrea Turčina. Work with her is very good. We have the same opinion on songs, Later I started working on EP for Denis Kolek. We have done two songs with Denis and still working on new songs.
Tell us a bit about your workflow at the studio?

In the beginning, I make coffee. :) When I`m drinking my morning coffee, I`m listening to the reference tracks from my customers for inspiration.
Many times I`m not okay with their tracks and I make song little bit to my mind. I haven`t a custom template in my DAW (Cubase), I start in an empty project, every time. I request form my customer demo vocals with some instrument how their demo harmony is for my idea of their compositions. In the first step I import these demos to my empty project.
Mostly, when I`m listening to their demo, I have whole song in my head. It`s magic and chemistry of music. When I`m satisfied with my work I send the first mix to my customer. They send comments and we adjust it together to the final.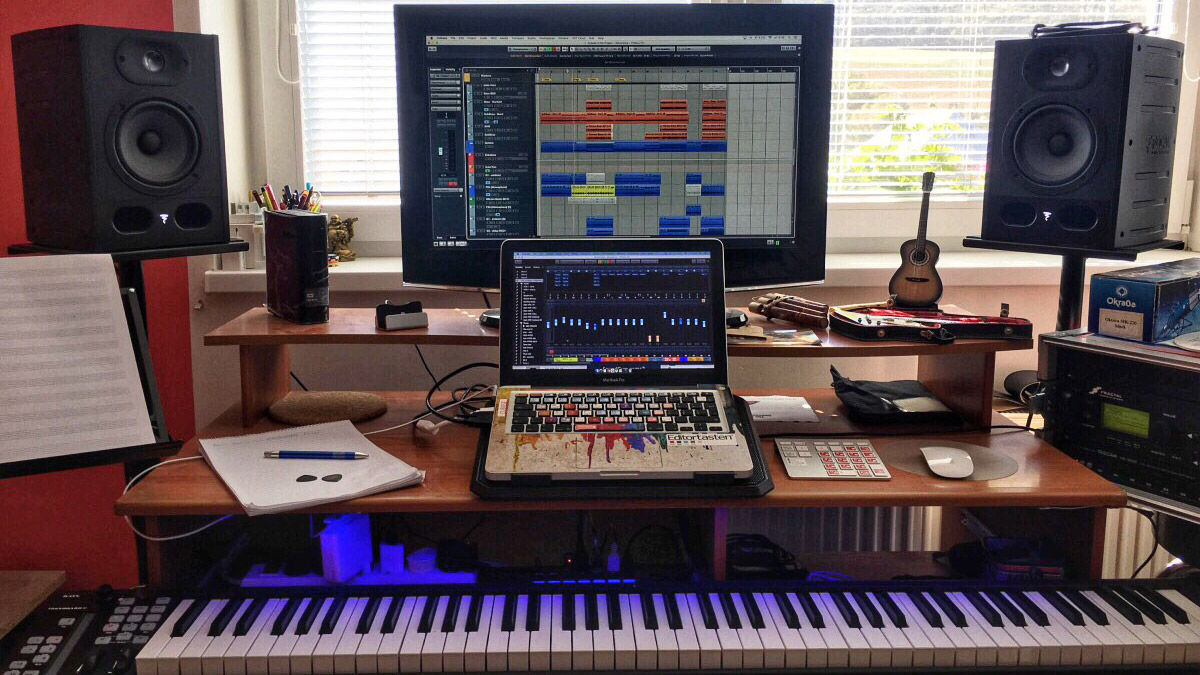 The first I record drums to their demo, of course. I use very good sample drums from Abbey Road. When the drums are finished I record the guitars.
I`m a guitarist and my music have a lot of guitar`s tracks, of course. Sometimes my customer tells me,,I don`t like to have many guitars in my songs`. I record them ten or fifteen tracks of guitars and They tell me, Can you give the guitars louder?` It`s so funny for me.
After guitars I record bass. I record demo bass with plugin and when is song finished, I call bassist and He records new bass licks. Bass is very important. Sometimes I record good bass but the bass player is bass players. You know, what I mean.
After that, I record pianos, some electronics and effects.
Song is finished and interprets arrive for recording. We`re recording the vocals, effect vocals, and so on in my record place. Sometimes we`re recording all day. I like a good,, raw material` in everything that I record. It is the basis. Minimum edit, maximum sound!
Any habits you have before starting a session?

I make coffee, of course :) The basis is an interview with the customer and building a relationship. I try to always understand their musical taste. I listen to their older recordings and so on. Simply one word - interrelation.
When they arrive to record, I ask them if they are not thirsty or hungry. In my opinion They must have a comfort.
What is one of your favorite production technique?

I really love arranging and recording. The first phase. I like a good sound of guitar with bass and drums when I record guitar. It's an incredible feeling for me when it sounds good at the beginning. I love rise and hit moments in the song. I love rise and hit moments in my song. You can hear :D
One Free plugin that you recommend?

I don`t use any free plugin except for stock plugins of my DAW (Cubase). Sometimes with stock plugin you have a better sound.
Which 3 plug-ins you can`t live without?

In the first time FabFilter Pro-Q2. It`s very good EQ, but very clean EQ. Track with this clean EQ sound same how without it. It is sometimes good, sometimes no.
I very like compressor Waves CLA-2A. It`s very simple comp with two knobs. I like it!
And third: Lexicon PCM Bundle. Halls, Plate, Room. Very good plugin. I like chamber from Lexicon plugin. I use to still.
What does the future hold for Ľubomír Mazák the music industry?

More songs produced by me, more customers, more experiences, super feeling of my work. Simply more good music and sound! :) Music, in my opinion, healing world.
Last question, What is your favorite SoundGym Feature and why?

Certainly, Peak Master. My ears are more sensitive since I have trained Peak Master and I am more careful of my hearing.
You can follow Ľubomír Mazák on Instagram
here
.