Guitarist and Music producer from Poland, currently working on his upcoming solo EP, Mateusz Dąbrowski is this month's SoundGym Hero!
Who are you?
My name's Mateusz, I come from Poland and I like to play guitar and produce tracks every once in a while :)
Tell us one interesting fact about yourself
I can eat a humongous amount of fried bananas and not explode (at least I could do that in third grade, further testing needed). Other than that, I consider myself just a regular everyday normal guy ;)
What is your favorite SoundGym feature? and why?
Peak Master was the thing that got me hooked on Soundgym and it's still the number one feature for me, even though there are quite a few cool games you can choose from. It completely changed my perception of frequencies in different instruments and made using EQ a rather pleasant experience instead of excruciating, neverending guesswork I would force myself to deal with in the past.
One music piece that inspired you to be a music maker?
I was lucky to be surrounded by so much amazing music right from when I was a kid (mostly pop giants like Michael Jackson, Sting, Elton John and Celine Dion). My biggest revelation moment, however, was when I stumbled across Linkin Park's 'Breaking the Habit' video on MTV. After I put my hands on Meteora, I kept listening to it daily for the following year or so…. good times!
Who is your biggest influence? and why?
Being a guitar player, I'm naturally drawn to amazing guitar work and Plini embodies everything I love about modern music – completely unrestrained in terms of technique and imagination yet catchy and relatively easy to follow for people who don't happen to be music nerds. I also admire his holistic approach to music – it's not all about the guitar, all members of the band bring their fantastic skill to the table.
Your trick to get inspired and stay creative?
Exploring all kinds of music genres – even though I mostly operate in the rock/metal territory, I don't shy away from weird (Igorrr!), very dark (Ordo Rosarius Equilibrio!) or minimalistic (Sunn O)))!) sounds.
Having an alternative music festival organized in my home town was very conducive to developing this kind of approach. I've been to most editions of OFF Festival since its inception and every year I'm floored with the creativity of the artists performing there.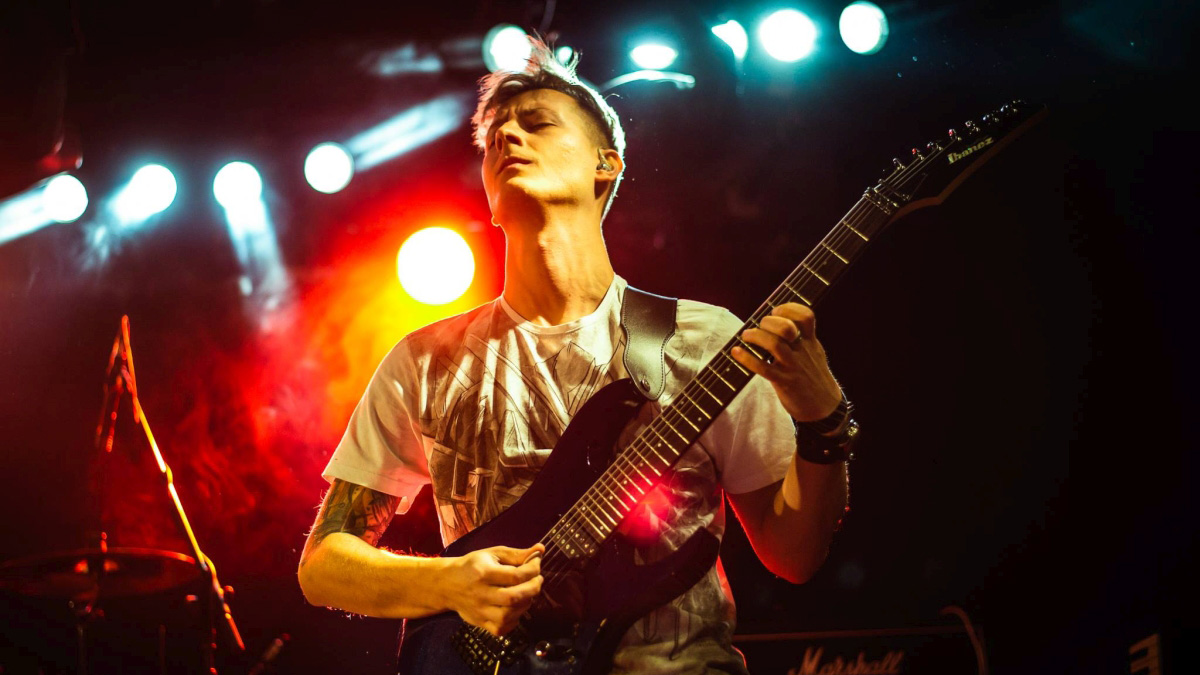 Tell us a bit about your workflow at the studio
I'd love to have a specific workflow, but most of the time it turns into a little mess despite my most sincere efforts. I like to have mental picture of what I want to achieve and avoid mindless knob turning or loading a bunch of plugins without a clear purpose.
After years of dabbling with music, one of my more recent conclusions is that limiting your options is actually a great thing to do, especially in this day and age when we're flooded with tons of fantastic plugins, virtual instruments and samples, and you could spend years browsing through your different compressors instead of simply getting the work done.
Any habits you have before starting a session?
A cup of freshly brewed mate. It's a great alternative for coffee to keep your mind sharp during work.
One plugin you can't live without? and why?
Valhalla Room reverb. If you're reading this and don't know why, just try it and all will become clear
Piece of gear in your studio that you have special feelings for?
Without doubt, my old trusty Axe FX Ultra. It just does everything I want and I hope to grow old with it ;)
What does the future hold for Mateusz Dąbrowski in the music industry?
For the past year or so I've been working on my solo EP and now's the time to share it with the world – the first tune 'From the Unreal to the Real' has just landed on Youtube, so go check it out if you like!