Guitarist, sound producer & video artist based in Avignon, south of France,
@Max - Black Virgin
is this month SoundGym Hero.
So how long have you been on SoundGym?
I joined a few months ago. I started playing the exercises as soon as I discovered SoundGym. I quite liked the playfulness of it, it`s fun to practice everyday. My in-depth hearing improved a lot since I started.
What was your first connection to music?
My Dad playing guitar!
Did you get an official Sound/Production education?
Being a musician in the first place, I came to production in order to achieve nice sounding recordings for our band. You need your music to sound good to put it out to someone, so I started from there and went from many self-productions to meeting engineers mixing my music from whom I learned a lot. I also started to watch more seriously some video courses online and now that SoundGym is also a school it`s just rocking.
What is Black Virgin?
Black Virgin is the name of the studio I set up a few years ago when I relocated from London to the south of France. It is situated in a nice location in the pine woods where I can accommodate musicians who come from far away. I have been writing and producing music for artists who wanted to renew their sounds, and that are coming from very different musical fields than mine.



We use the studio to test new things, try sounds, write songs and finally record them, in an escalating process. Furthermore, I do record regular bands who come in the studio well-rehearsed and nail down their tracks in one take or two. The recording studio is also a creative base for me, I am involved in several musical projects; ranging from rock to electronica to folk. I write, record and produce these bands in the studio.
We also propose websites design and videos services for musicians, helping them to improve their presence online.
This year sees Black Virgin launching as a label for these bands, with 3 releases coming up in 2018.
Tell us about your projects and what you do day to day?
I am involved in 3 different musical projects where I act as a musician and producer.Cortesia is a neofolk-step band who blends traditional instruments and languages from south France. The idea is to pick elements from our local culture and blend them with a wider Mediterranean twist and post-electro/rock subcultures to take them into the 21st century. I play the guitar and produced their 3rd album coming up this year on Black Virgin in September, and the first single comes out the 21st of June.

Lekkoboy is an electronic music duo I make with my friend Max. It is quite psychedelic, we hold a collection of homemade synth that make crazy sounds and we like to put twisted beats on that.


Lately I started writing rock songs on my guitar, the idea was to write, sing, play all instruments, record, mix and master all in one night. (!) I wanted to practice mastering on a new song so I wrote, record and mix it quickly so I could practice the mastering on a fresh track. I enjoyed the result and concept so I reproduced this almost every night for 2 months. I liked the idea to go fast as opposed to projects that come out slowly.
Of course all songs need rework but it allowed me to work superfast without worrying too much about details and keeping things fresh. In this case it was 80% of creation in 20% of the time instead of the classic 20% creation and 80% time.
Who have been the biggest musical influences for you?
As a teenager starting playing guitar, I listened to 70's and 90's rock a lot, The Pixies, Beck, The Doors, VU, Syd Barrett-era Pink Floyd inspired me a lot in my early years of music making. They were punk musical geniuses and free. Classical music also had an impact when I later got into music school.


I especially loved the early 20th-century musical explorations, composers such as Béla Bartók, Igor Stravinsky, Pierre Henri and Olivier Messiaen. They opened a lot of perspectives in sound, music and rhythm.




I should also mention watching as a kid 70`s and 80`s cartoons on the TV that were using a lot of analogue synthesizers!
Have you made music today?
Yes I have been recording and filming my friends Aurisha, an acid-folk duo composed of acoustic guitar, vox and flute. We used some 60`s and 50`s microphones to get a vintage vibe that goes well with their sound.
What have you been working on lately?
A lot of things! Making websites, recording other artists in the studio and working on my Rock solo project. There`s a producer interested in recording some of the songs on a specific set of gear and microphones so I am very excited about that.
Tell us a bit about your workflow at the studio?
I use a Focusrite Clarett 8 PreX sound card and Midas XL preamps running through Logic Pro X on an iMac computer. The sound come out on a pair of Adam A77X and different types of speakers, to check mixes on different conditions. I use this set up to connect the microphones and instruments to record bands and overdubs.


When it comes to producing electronic with Lekkoboy, we plug a lot of synthesizers and drum machines on another console, plus the FX such as Sherman filters, Delays, side-chain gates or compressors and homemade effects that are patched in the FX bus with physical out back to the console that is sent to Ableton Live or Logic, depending on how we want to apprehend the track.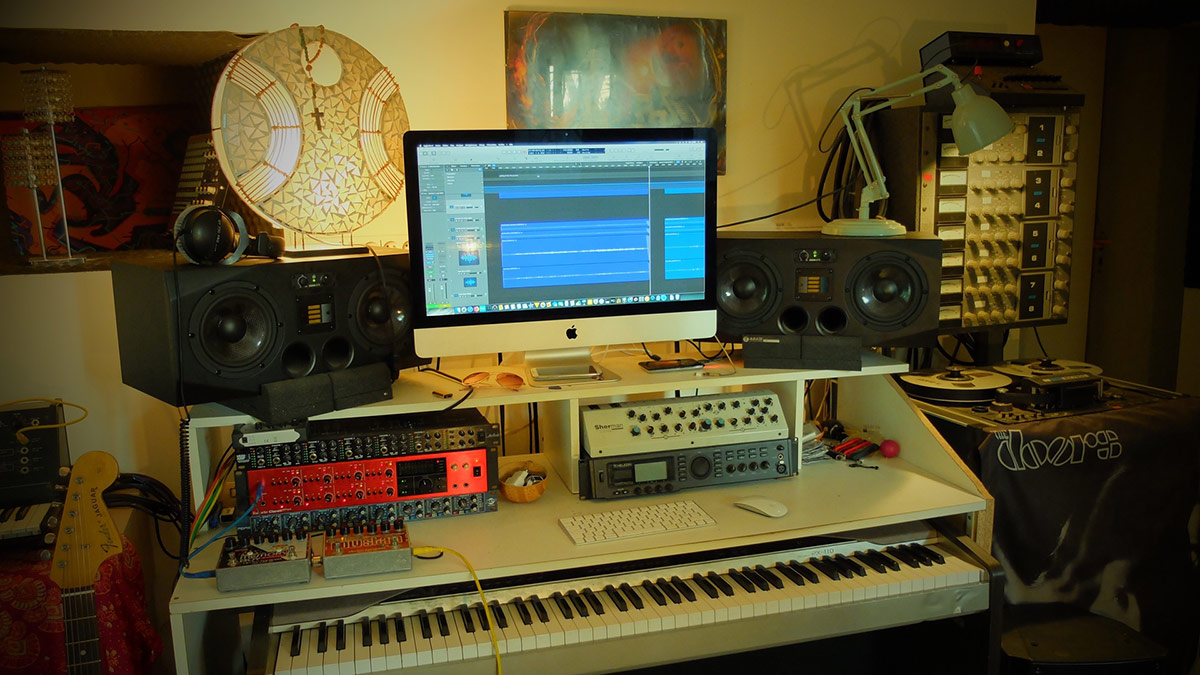 I also have an Otari 8 tracks analog tape recorder that I use to run stem mixes through its 8 bands; it has nice hi-frequencies embellishment, I also use it just to color one take, and feed it back to the iMac. Its analog saturation capacity is great, it is destructive in the extreme settings but it reproduces a new distorted sound in a very musical way. It`s a neat asset to have nearby for the right occasion.
Any habits you have before starting a session?
I make sure that the musicians feel welcome and comfortable when they arrive. We discuss the tracks and recording process we`ll use, and what type of sound we`re aiming for. I like to plan ahead so the recording session goes fine, making sure all the routings in the DAW and the microphones are chosen and well set up for that project. Then things go smooth and everyone`s happy.
What is one of your favorite production technique?
I love gating! It`s a cool feature easy to implement on Ableton Live or on any good side-chain compressor. I use it when I have a flow of crazy sounds that need to be tamed. It can be a bass or any rich-textured sound or input, I gate this sound on a kick or something rhythmical I create for the occasion so they play the same rhythm or just groove well together, and I am free to tweak the gated sound, it allows to fit in the song and it`s often a good sounding surprise. You can hear this effect on Lekkoboy track « Integrate »
One Free plugin that you recommend?
I love the HG Fortune synth to make psychedelic pads. I used them on a couple of songs. The person who makes them is now focusing more on his own music than releasing plug-ins, but you can still find them online if you search hard!
Which 3 plug-ins you can`t live without?


Any Compressor, EQ and Limiter. We're sometimes led into thinking that we need this or that plug-in to make our music better. What we really need is to know how to use these 3 ones and our mixes are fine. I do have a collection of 3rd party plug-ins that I use just because of their sound quality, the color they bring.
What does the future hold for Max Bénézeth in the music industry?


A lot of things! I am looking forward to having creative artists coming in the Black Virgin studio to record or collaborate on music and production, getting creative on making websites or video art for them.


Regarding my personal projects, the Cortesia album is coming out in September this year with a serie concert in France. We plan to play on historical sites so that's exciting.


I hope to release music from my rock project this year as well so it should be a busy one.
Last question, What is your favorite SoundGym Feature and why?


The sound training feature is what got me in the first place but what I like a lot on SoundGym is the sense of community, it feels small but the whole world is here, it`s great to exchange, learn and discover with so many music and sound producers!
Find out more on is website:
www.blackvirgin.fr