Singer-songwriter and Music producer with a Passion for personal growth and spirituality, currently from Montreal, Canada. Maya Belgnaoui is this month's SoundGym Hero!
Who are you, and Where are you from?ֿ
My name is Maya B I go by the artist name Mya Luv. I'm a 28-year-old singer/songwriter/producer from Montreal, Canada.
How did you get into music?
I got into music at age 15, when I got my first acoustic guitar and took my first guitar and singing lessons. Around 16, I got my first keyboard and started teaching myself basic piano chords and scales. When I was 18, I joined a music school where I learned about music theory, sight reading, classical music literature, etc. I was in a jazz concentration program, so I got to learn many jazz standards and explore/understand the different subgenres and the evolution of jazz music.
I steered away from music for a little while when I went to university in 2014 and studied pharmacology. I knew in my heart that this was not the right path for me, so I left my studies to follow my calling and pursue music seriously.
Throughout the past 6 years or so, I have been continuously crafting my music skills mainly through online programs: whether that was improving my singing, guitar, bass, piano, songwriting skills, etc.
Around 2 years ago, during the pandemic, I felt the urge to truly express myself as an artist and release my original music.
I had written songs for a few years, mainly on the guitar. But back then, I was looking for a producer to help me produce my compositions.
That's when the desire to learn music production came to mind. I said to myself, 'what if I could learn this. I had pretty much been self-taught in everything that I wanted to learn. And so that's when I dove into the wonderful world of music production. Through many online courses and with the help of my friend, who is also an artist/producer, I co-produced and released my first EP.
Since then, I have been working on expanding my production skills and writing songs, and thanks to websites like SoundGym, I have been polishing my listening and production skills and getting a better grasp on how to shape and combine different musical elements together in order to form a song that's sonically pleasing and clear sounding.
What do you like to do for fun outside of working on music?
I'm somebody who loves to move and to work out. I got into Crossfit a couple of years ago and enjoyed it. I've been working to improve the different movements within that sport since then, especially calisthenics/gymnastics and my strength. I enjoy dancing and boxing, although I don't do enough of them.
I also love exploring different places, and nature feels like home.
Throughout my life, learning has been an overarching theme, and meta-learning: learning how to learn and become an efficient learner. And so, I am always on the quest to deepen my knowledge and learn something new: a new skill, a new language, reading self-help books, and just overall, seeking to become the best version of myself.
Finally, I'm a very spiritual person, and I enjoy spending time in meditation and contemplating my inner world.
What's your most useless skill or talent?
The first thing that comes to mind is cooking or baking. My friends and family always seem to appreciate it when I do it, it's just that I don't do it too often, and I haven't taken the time to fully explore the world of food and gastronomy and play out with the different textures and flavors that food provides.
What inspires you to keep making music?
I think that if there is one thing that's always been rooted in me, it's my sense of purpose. Music has always been part of my mission as a highly spiritual person. To me, music is very magical, and it comes with infinite potential. It has the ability to connect us all, beyond the physical plane and penetrate our soul and our very essence.
On a first basis, I want to spread love and unite people through music.
On a second basis, I'm on this lifelong journey to uncover and understand the alchemy of sound, the power that music holds, the energy behind the frequencies and sounds, its relationship with Life and how it impacts humanity, and how everything works on a macro and micro level.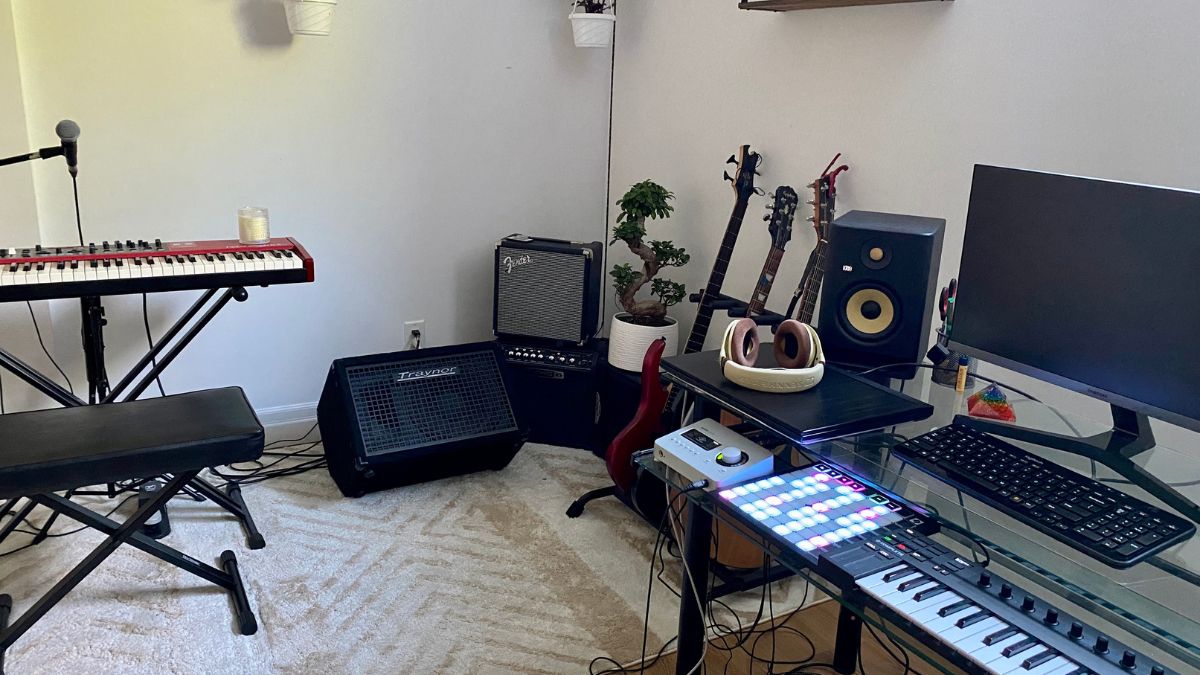 It's a bit challenging for me to put all of this into words, but basically, I believe that music is a universal language that allows us to connect with everyone and everything, and I want to learn to speak it, as fluently as I can.
Finally, music is just so much fun, nourishing and therapeutic.I feel like a kid when I'm doing it, and it's just the best feeling!
If you could sit down to a session with any artist, who would it be?
There have been so many artists that have inspired me, and for different reasons.
I guess, if I had to choose at the moment, it would be Ms. Lauryn Hill. Not only because she is amazing and a genius at her craft but because, to me, she has created a work of substance. I feel like her heart, her soul, and integrity were reflected through her music, and I believe that she left a legacy for so many aspiring artists and for generations to come.
Any habits you have before starting a session?
I love to go through my morning routine before I start working on a project.
I usually do a bit of yoga, meditate, read and work out. I then like to practice guitar and piano, warm up my voice, and have a SoundGym Audio Ear Training session.
If you could pick one, what would be the theme song of your life?
Wow, I've been pondering over this question for a couple of days now and I've yet to find the ideal song that would best describe me or my life. First of all, there are so many songs that made me, that are part of my identity, and shaped me as an artist. I just feel like this "theme song of my life" resides in the future, because I know that it's a song that I will create, I just haven't given birth to it yet, haha.
Although, I will leave you with one of my favorite songs "Stevie Wonder - As". I love Stevie. He's all about Love, there's such a special energy about him, and his songs always bring a great vibe.
What is your favorite piece of music gear you own?
Out of all the amazing music gear that exists out there, I think I will remain simple and stick to my good ol' acoustic guitar.
Being my very first musical instrument, this guitar accompanied me through different life cycles and chapters in my life and allowed me to give birth to so many songs. It is my main tool for creation, and I am so grateful for it.
What is your favorite SoundGym feature?
My favorite feature is definitely the 'Gym'. I think it is so amazing that SoundGym is able to provide us with tools/games that allow us to improve so many different skills when it comes to music production/mixing/mastering. It's a real gem!
What does the future hold for Maya B?
Maya B. aka Mya Luv is currently working on an album. This is an album that I composed and co-produced with my fellow music partner and friend Marven Denis. I am planning to release it by early 2023.
Besides that, I am seeking to perform in live shows, and hopefully, being on tour would be my dream.
Thank you so much for taking the time to get to know me, I am honored. Much Love to all of you!
You can follow Maya Belgnaoui on her Website, Youtube, Spotify, Apple Music, and Soundcloud.
---