Self-taught producer, Mixer, Singer & Guitarist, Currently living in Switzerland, Ruud Reiher is this month SoundGym Hero!
Who are you?
I am Ruud Reiher, a German national, born in Spain and living in Switzerland. I am a self-taught producer and mixer who started in the music world as a 'late 90's' Thrash-metal singer and guitarist. After some years improving my melodic abilities and "90's Thrash metal-screamings", I started the 21st century as the lead singer and rhythm guitarist in a Rap-Metal band, hardly influenced by Rage against the machine & Deftones.
Sometime after this band got dissolved, I kept on working on my music in the metal-core & djent scene as a rhythm guitarist in different metal bands... And after that, in the year 2014, I started my solo career and my learning process as a producer, mixing and mastering engineer.
Nowadays: I offer my services for music production, mixing and mastering through my website.
I also have a youtube channel in Spanish with tutorials about Cubase, Plugins and music production in general, and I am an affiliated artist to BMI (Performance Rights Organisation in the USA).
Tell us one interesting fact about yourself.
I never give up. And why not say it... I worked as a lawyer for 7 years...
What is your favourite SoundGym feature?
The gym. The workouts made me discover a new dimension of my hearing sense. I try to train every day, and I have to say that in the first months, I got very frustrated because of my slow development. But at some point, I started to get more disciplined and started to progress at a much higher rate than before.
The more I train, the more discipline, and the more I increase my SPI.
That is the point; the workouts did not only make my hearing improving but also my discipline and way of facing every week, setting goals.
One music piece that inspired you to be a music maker?
Of course: Billie Jean, from Michael Jackson… I can still remember going and buying the vinyl of Thriller and playing that track on and on… as the video clip came up in Spain, I was a young little boy… I was just fascinated. M.J. made me love music the way I do.
But my older brother and the music he was listening to was also a big influence because he is older and was not listening to music for children, so as I was 12 or something, I already started to pay attention to bands like Public Enemy… and later on… Rage against the machine (their first album), Nirvana, Pearl Jam.. and I started to live that grunge era.
Who is your biggest musical influence?
Deftones. They mix everything together. Metal, Rock, 'Rap-Verses', Emo, melodic, screaming… I can write so many different types of songs, one completely different to the other… but I can feel that in all of them, no matter how it sounds, there is a liiiiittle bit of Deftones inside.
Any habits that help you stay Inspired and Creative?
Spending time on my own and taking a piece of paper when I am feeling sad.
Tell us a bit about your workflow when making music?
I do not have one workflow but different workflows; when I was the lead singer at a rap-metal band, I just went to the rehearsal room and let it happen, the guys always had very good riffs and grooves, and I wrote the texts after that, I even wrote texts at the studio, a couple of hours before getting into the booth for recording.
When I was playing guitars at metal bands, everything came up at the rehearsal room spontaneously.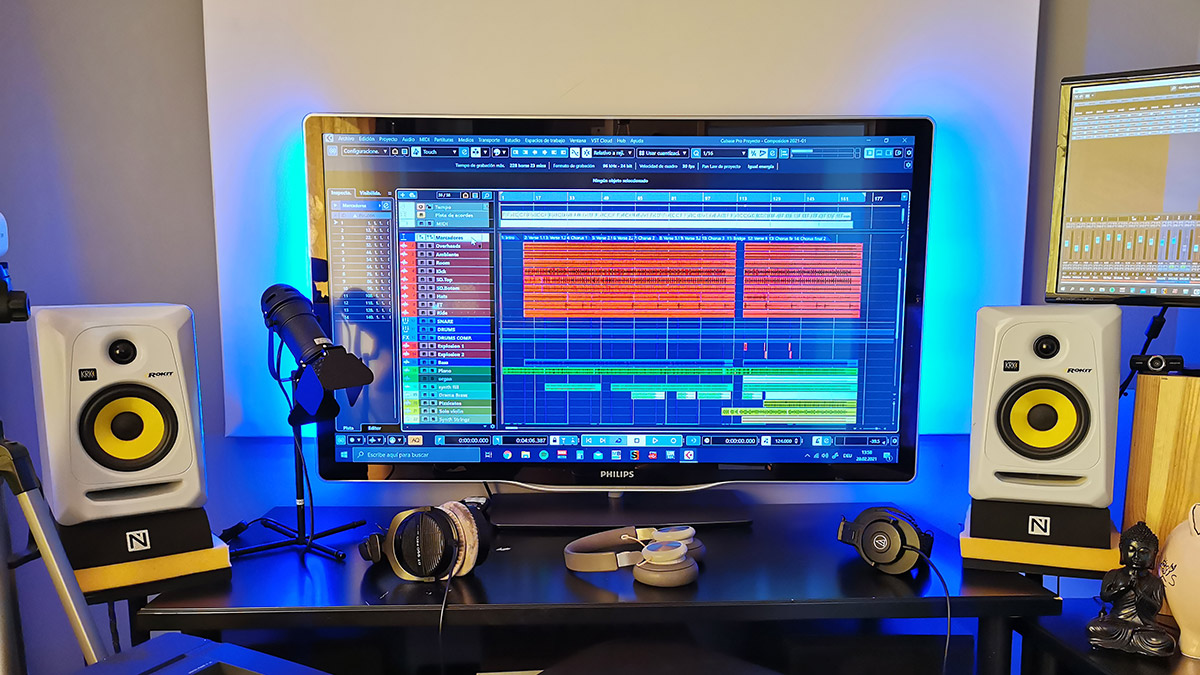 Years later, I started to write rap songs, and then I spent hours at my computer producing the beats, or arranging the music (cause I don't like to call beats to the music that I used to arrange for the songs) and then hours and hours writing texts in notebooks… Eminem inspired me a lot.
And now I usually take my 8 Strings guitar, and I just jam on a drums track (as most guitarists do, I guess). I record it, and the following days, I listen to it and keep on working on it; something always comes out of it.
Any habits you have before starting a session?
Before I start any session, no matter what, just producing, recording, mixing or mastering, I am aware that my studio is cleared, and I do not have any chaos (guitars, or cables, or something…). My home studio is very small! And I always take something to drink with (Coffee, Water…).
It feels a little more special if I have to record my own vocals; in this case, I have to create a special and dark atmosphere, I need to feel that it is gonna work otherwise, I give up and I record at a different moment.
The most important thing is to get it right at the source… so, you'd better record it perfect.
Piece of gear in your studio that you have special feelings for?
The first is my Shure sm58… I got it for so many years and it reminds me so much of concerts and rehearsals with it, it also was my very first mic.
And my Mesa Boogie Dual Rectifier, because with it I merged myself in the metal world and I started to learn cool things about rigs, guitars and playing the guitars...
What does the future hold for Ruud Reiher in the music industry?
I do not know what the future holds for Ruud Reiher in the music industry, but I know what Ruud Reiher holds for the future of the music industry and that's more music, more lyrics, more projects, more, more and more… because like I said… I never give up.
If you want to follow Ruud Reiher work, you can do so over on his Site and Facebook and Youtube.