Aspiring to compose music for video games and films, multi-instrumentalist & music producer currently located in Shropshire, UK. Andy Lowe is this month's SoundGym Hero!
Who are you and where are you from?
I'm Andy, a multi-instrumentalist and music producer based in Shropshire, UK. I live in a quiet, rural English market town. There isn't much of a live music scene here but it's great for countryside walks, and I always feel more inspired to create after some time outdoors. One of my first musical projects was a folk song about my hometown, it was a bit of a YouTube hit locally but I eventually took it down because the video production didn't age well!
How did you get into music and for how long have you been making music?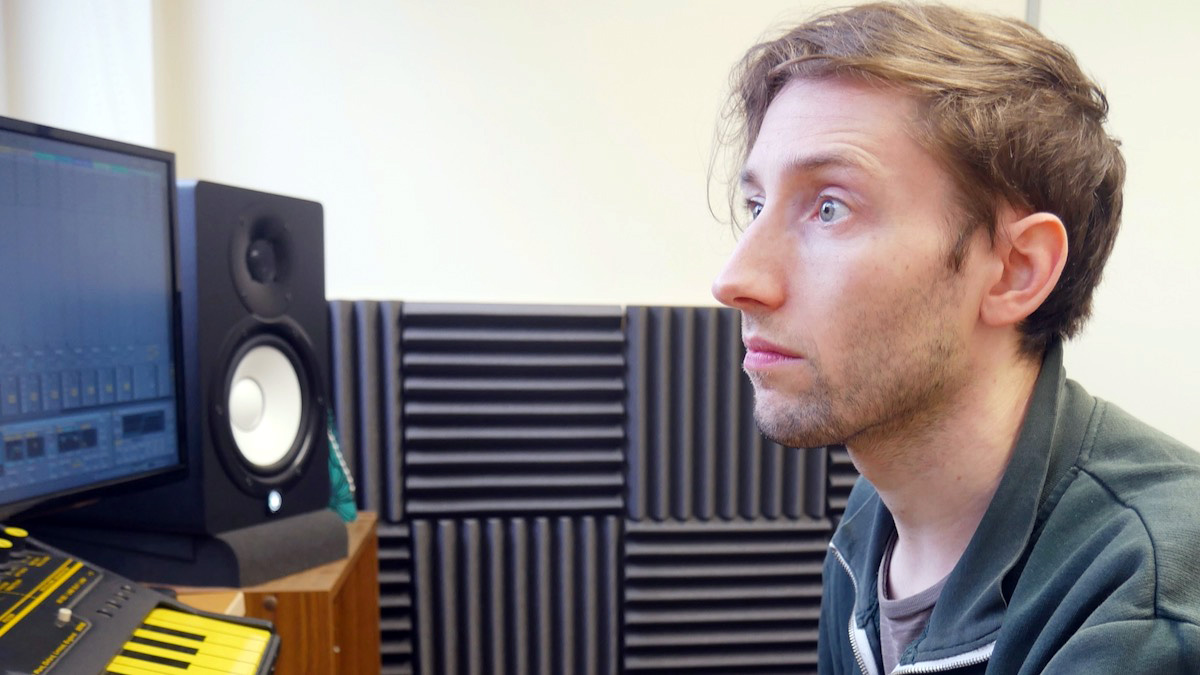 I started out with violin lessons when I was seven. It was a grind but I persevered and learned a lot over several years before picking up saxophone, followed by guitar and keys. I wrote a ton of mostly awful songs as a teenager, but that's what moved me towards recording music.
My first experience in music production came from the game 'Music 2000' for Playstation. The sound quality wasn't great but I fell in love with sequencing loops. I even produced a piece for my school music exam on the game. I had to record from my TV speakers into a cassette recorder so it sounded atrocious but I got good marks for composition! Like a lot of musicians, I recorded my first songs with Audacity, often tearing my hear out over audio lag or clipping. I'm so grateful to have a reliable set-up now, based around Ableton Live.
I feel like I arrived as a music producer from two different directions, and that will always be reflected in my musical output. I'm a musician and a songwriter, but I still love playing around with electronic devices and software and seeing what I can get them to do. Most of my output has been instrumental, but words are so important to me in self-expression, so eventually, I'll return to lyric-based music.
What do you like to do for fun outside of working on music?
I like to play board games, although during the pandemic I had to settle for a lot of virtual board gaming instead. I have a competitive streak, and I enjoy the challenge and having some social escapism. It's also a good excuse to listen to some great soundtracks while playing too.
What's your most useless skill or talent?
I have a very inflatable nose. I discovered in school that I can fill my nose with air and it's surprisingly expansive.
What inspires you and what makes you want to keep making music?
I love the story-telling power that music has. I feel like I'm creating a world within a world and that's what excites me - a combination of sounds moving in a certain way creates the feeling of being moved to a different place. I'll keep inventing new sound worlds for other people to explore.
Each time I produce something I learn something new, and that's important to me. We're all on a constant learning journey and I want to keep discovering more about how music works as I'm making it. Perhaps the most inspiring thing is being around other people who are creating music. Whenever I go to a gig I always come home wanting to pick up an instrument and write or produce something new. It comes full circle when I get to share the music I've made with other people.
If you could sit down to a session with any artist, who would it be?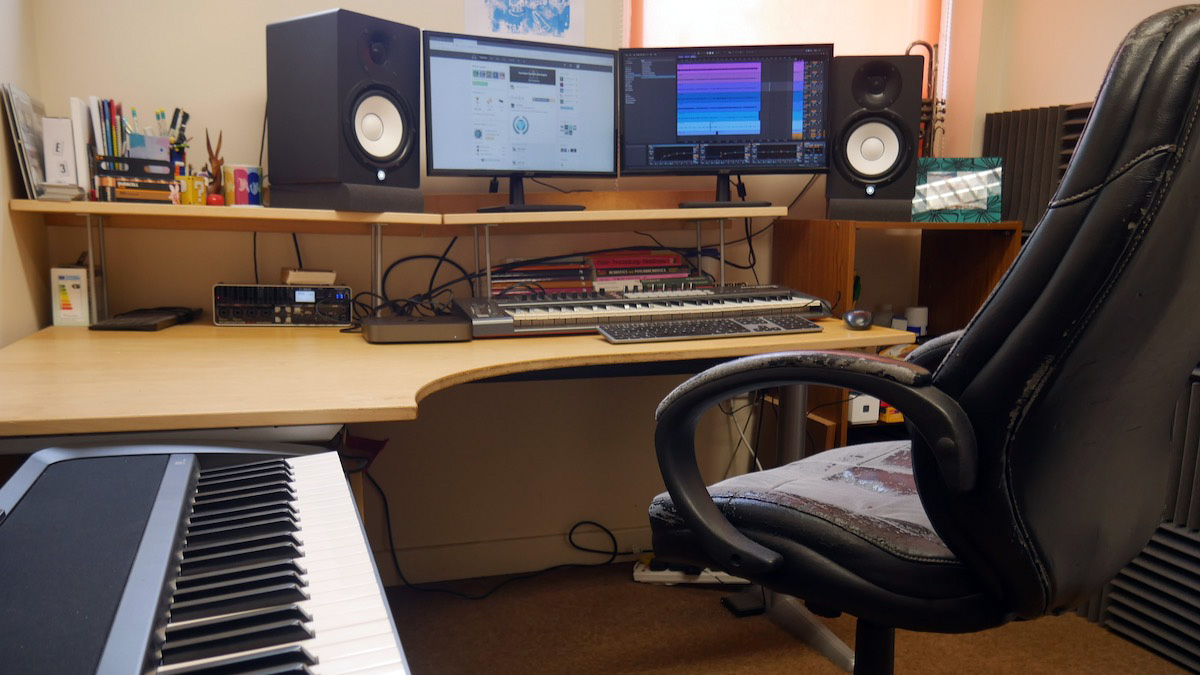 I'm a big Jacob Collier fan - I love the playfulness and energy that infuses his music. I'd be intimidated by the sheer genius musicianship, but it would still be amazing to have a jamming session. I'd also make sure to record some samples for future use!
Any habits you have before starting a session?
I regularly pray before and during production sessions. I've started to realise that I have less control over the whole process than I would like to think. Is it possible to generate a 'good idea' just by willing myself to have one? I also know that even if it goes well, I'm going to face some hurdles and challenges in the process. So I'll often just say, "please help me out here", or "how can I make this better?"
How did your latest EP, "Tales from the Workshop", come about?
Tales from the Workshop is a folktronica collaboration with my friend Sarah Ballard. We met at a conference when we were both youth workers, and her role included operating a mobile recording studio in a van. We live on opposite sides of England so hadn't really considered making music together until the Covid crisis. We started playing with some ideas remotely during the lockdown and eventually produced a four-track EP (well, five if you count the little epilogue).
Stylistically, it's heavily influenced by Lindsey Stirling, a violinist who works with a lot of electronic beats. I also draw on video game soundtracks, particularly Nobuo Uematsu's music for the Final Fantasy games. I like to create harmonic progressions that are more cinematic than clubby. And Sarah composed some wonderfully fluid melodies that develop the narrative of each track. We felt the sense of story was so strong in the EP that we asked Sarah's daughter daisy to write some short stories to accompany it. So each track is named after a fictional character from that world.
If you could pick one, what would be the theme song of your life?
Express Yourself by Charles Wright & The Watts 103rd Street Rhythm Band. It's such a great piece of funky soul with a delicious groove. It's fun, and obviously, it's about expressing yourself. It's not always easy to put yourself out there, but this song reminds me to have fun doing it. When my wife and I got married we processed from the altar accompanied by this track.
What is your favourite piece of music gear you own?
Probably my acoustic guitar. It's been around since those teenage songwriting days and it's seen a lot of action. The sound hole is all scuffed up with pick scrapes but it still sounds great. I wasn't even looking for a guitar when I bought it - a friend of mine had bought it as a favour to a friend of hers in eastern Europe, who ended up rejecting it and sending it back to the UK. So I gave it home instead. It's a great Ibanez!
What is your favourite SoundGym feature?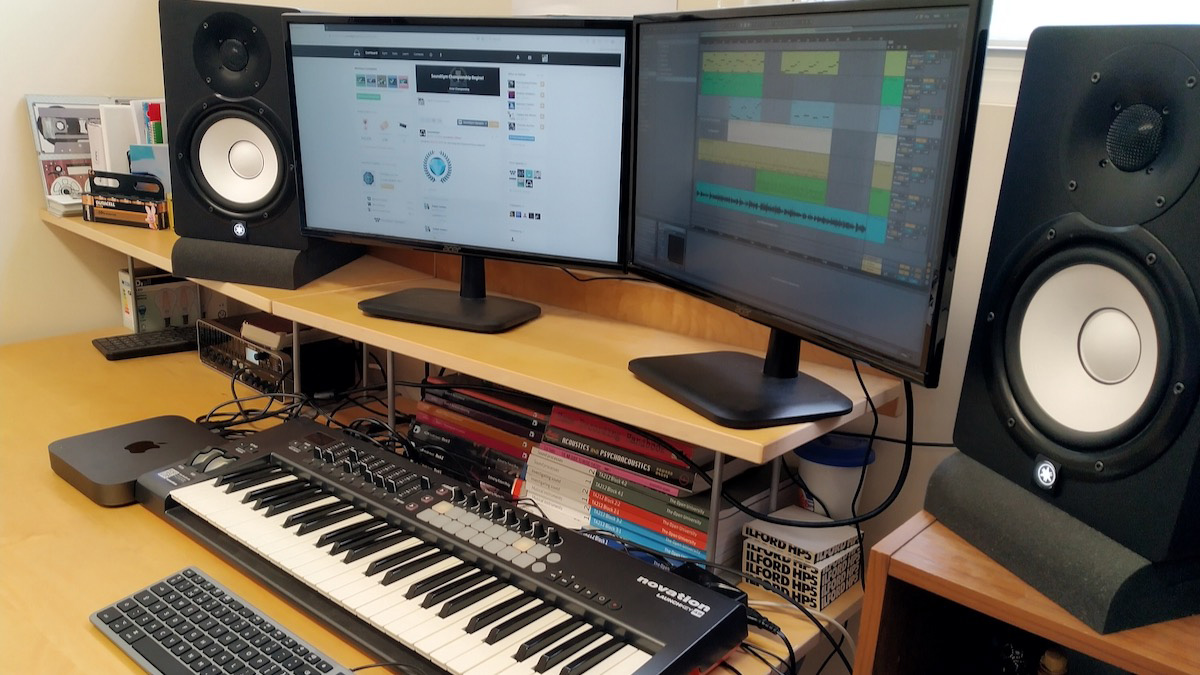 It's all about the daily workouts for me! I try to train my ears four or five times a week and I love getting a random selection of SoundGym games. Balance Memory is one of my favourites, but I think Bass Detective and Compressionist are helping me develop most at the moment. It can be hard work but it's super encouraging when you realise that you're hearing details in the sound that you didn't notice a few months ago.
What does the future hold for Andy Lowe in the music industry?
My goal is to compose music for video games and films. I'm working on the soundtrack for a sci-fi strategy game at the moment called A.I.R. More projects like that would be really cool! But I'll keep releasing my own music too, and will be branching out in new directions. I'm working on some pop tracks, and contemplating a rap album! I also co-produced an improvisation podcast called Auki (auki.uk). We've been on hiatus due to Covid so I'm looking forward to recording some fresh episodes filled with jamming games.