If you are new to the world of music production, you will notice that Digital Audio Workstations, or DAWs, are a frequent topic of conversation between producers online. People are often forthright with their opinions on which is the best choice, and with so many options available it can be quite challenging to navigate this landscape as a novice producer.
With this article, we hope to be able to start guiding you toward the correct choice for you. We'll explain what a DAW is, how it works, and what you can do with it. We'll also offer advice tailored to beginners on what to look out for in your perfect DAW.
What is a Digital Audio Workstation?
A DAW is the primary piece of software you use in order to make music on a computer. It's a one-stop-shop, and in most cases will allow you to; record and edit audio, import samples, play virtual instruments, add effects, mix and master your music. In other words, it will allow you to create a piece of music from start to finish within a single software environment.
You will likely need some additional hardware in order to get the most out of this software; monitor speakers or headphones for listening, an audio interface that you can use to both connect your speakers to your computer and record external instruments, and maybe a MIDI keyboard which can be used to control software instruments. However, your music-making will primarily revolve around this single piece of software, and it's, therefore, important to try and choose the platform that will work best for you.
How Does a DAW Work?
DAWs are incredibly powerful pieces of software, and that means they can get pretty complicated – but don't let that put you off. As a beginner, you don't need to worry about advanced functions quite yet, and the basic functionality of a DAW is not that difficult to get your head around. Learning a DAW inside-out is a gradual process that can take years – but you can start to get some pretty good results pretty fast if you understand just a few basics.
In the days before DAWs, studios needed a wide range of hardware in order to record and mix music; a mixing desk, sequencers, samplers, effects racks, patch bays, and more. A DAW provides all of this and a whole lot of extra stuff in one software package, but the DAW interface still owes quite a lot to the hardware that it has replaced. In most DAWs you will find a part of the interface that looks remarkably similar to a mixing desk – there will be volume faders, rotary pan controls, options for patching in effects, etc.
Most DAWs also provide a time-based grid that allows you to arrange and edit audio; this could be sampled or it could be audio that you have recorded yourself. You can normally also use this grid to arrange and edit MIDI information. MIDI data is different from the data that is stored in audio files. Instead, it represents information about performance; the pitch of the notes that have been played, their duration, their volume, and so on. You can use MIDI data to play virtual instruments.
The 3 Functions of a Digital Audio Workstation
As we've discussed, DAWs are able to perform a very wide range of tasks – everything you need in order to create a piece of music from scratch 'inside the box. In order to better understand how this software can be used, we've broken down the main DAW functions into three separate areas; audio recording and arrangement, virtual instruments and effects, mixing, and mastering. Different DAWs have vastly differing approaches in how they allow you to perform these disparate tasks, so when you start working with a new DAW, take some time to familiarise yourself with how it works – YouTube videos can be a great resource here.
Audio Recording and Arrangement
The vast majority of DAWs will allow you to record audio directly onto your timeline. You will probably also need some hardware in order to achieve this – an audio interface will allow you to connect a guitar or microphone to your computer. If you are working with samples rather than recording original audio, the DAW will allow you to import these onto the same timeline so that all of your audio is available in one place.
Once your audio is recorded or imported into your DAW, you can use the timeline to arrange it and edit it. You can move audio around, chop it up, copy and paste it, loop it, and more. Think of your audio as a set of building blocks that you can arrange and rearrange in order to create a song.
Playing virtual instruments and adding audio effects
As we've already mentioned, DAWs allow you to work with MIDI, which means you can use them to perform and record with virtual instruments. Most DAWs come with a number of virtual instruments included; synths, samplers, virtual pianos and so on. You can also buy third-party software to use in your DAW; for example, Xfer Records' Serum is a favorite synth of many electronic producers, while Native Instruments Kontakt is a sampler that enables you to play libraries from many different software manufacturers – you can load up entire orchestras in this instrument if you wish. You can then record your musical parts using a MIDI keyboard or draw them in with a mouse – and your virtual instrument will be able to play these parts back for you.
Most DAWs also comes bundled with a wide range of audio effects plugins; EQs, compressors, reverbs, delays, distortion plugins, and often a whole lot more. As with virtual instruments you can add to this range of plugins with those created by third-party manufacturers. These effects can be added individually to single tracks, or applied to whole groups of tracks at the same time.
Mixing and Mastering
These are both 'post-production' processes – they occur after the recording has been completed. Mixing is the process by which musical elements are balanced, treated and combined. A good mix should ensure that every musical element is audible and that the track sounds well balanced both across the stereo field and across the frequency spectrum.
Mastering takes place after mixing. It is the process of making final EQ and dynamic adjustments to a mix, with the aim of making sure the track sounds as good as it can across the widest possible range of different playback devices.
What is the Best DAW for Beginners?
As we've already discussed, most DAWs offer very similar feature sets. However, many producers are quick to proclaim that certain DAWs are incredible while others are total garbage. So is there a difference, and does it matter which you choose? In all honesty, you can produce a high-end commercial release in pretty much any DAW, and you can also produce poor-sounding results in any software if you are using it inexpertly.
How then do you make a decision on which DAW is for you? The primary considerations are probably genre, cost, and workflow. Certain DAWs are much better suited to creating electronic music, while others are preferable to working with live instrumentation. The primary genre you work in should probably therefore influence your choice. The more expensive DAWs are generally more fully-featured, but they are beyond the reach of many beginners because of their high price-point. As more in-depth features may not be that important to novice producers, perhaps a cheaper option is more than adequate to begin with.
Whether a DAW is a good fit for your workflow is a more difficult thing to pin down. We all work in different ways, and we will find some DAWs naturally intuitive while others will feel cumbersome and difficult to use. It's hard to know whether a DAW will suit your workflow without trying it out, so it may be smart to check out a few DAWs using free trial periods to see if you prefer working in one over the others.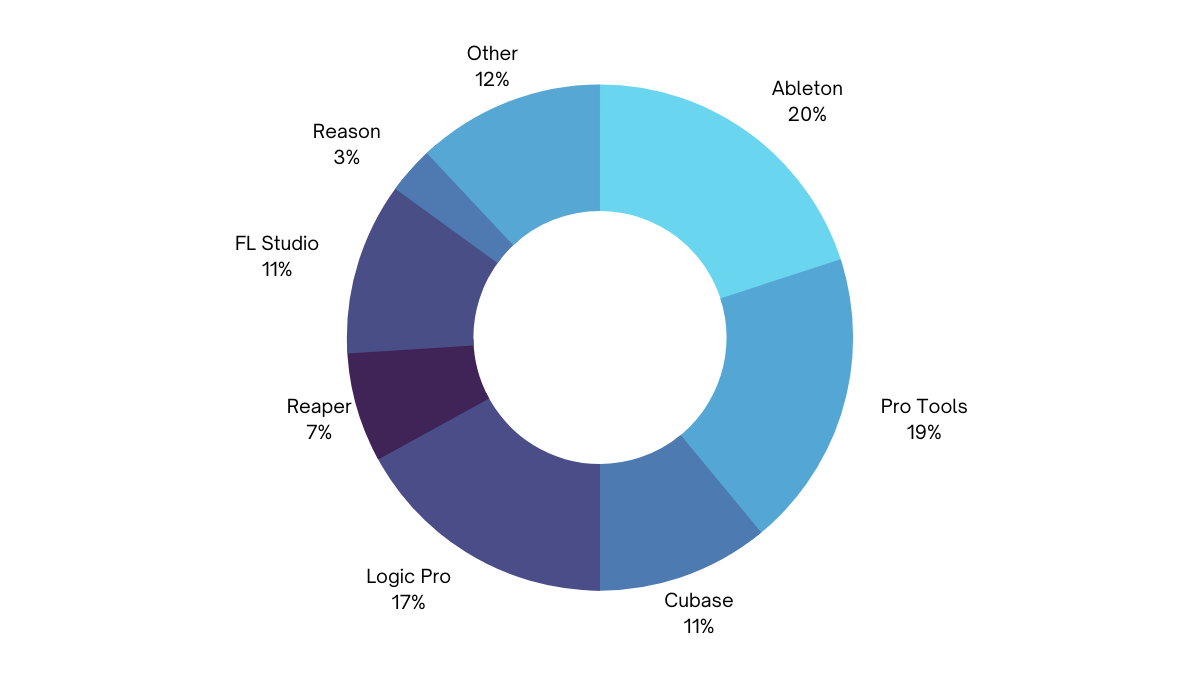 In preparation for this article, we examined SoundGym members' profiles to learn which DAW they used as their primary music creation tool, as you can see from the results above. Ableton Live, Pro Tools, and Logic were the most popular with our community and these are probably the 'big hitters' of the DAW world. However, we also found devoted fanbases for FL Studio, Cubase, Reaper, and Reason. Below we'll talk through all of these options (and more) to try and help you make an educated choice about which of these platforms is right for you.
Ableton Live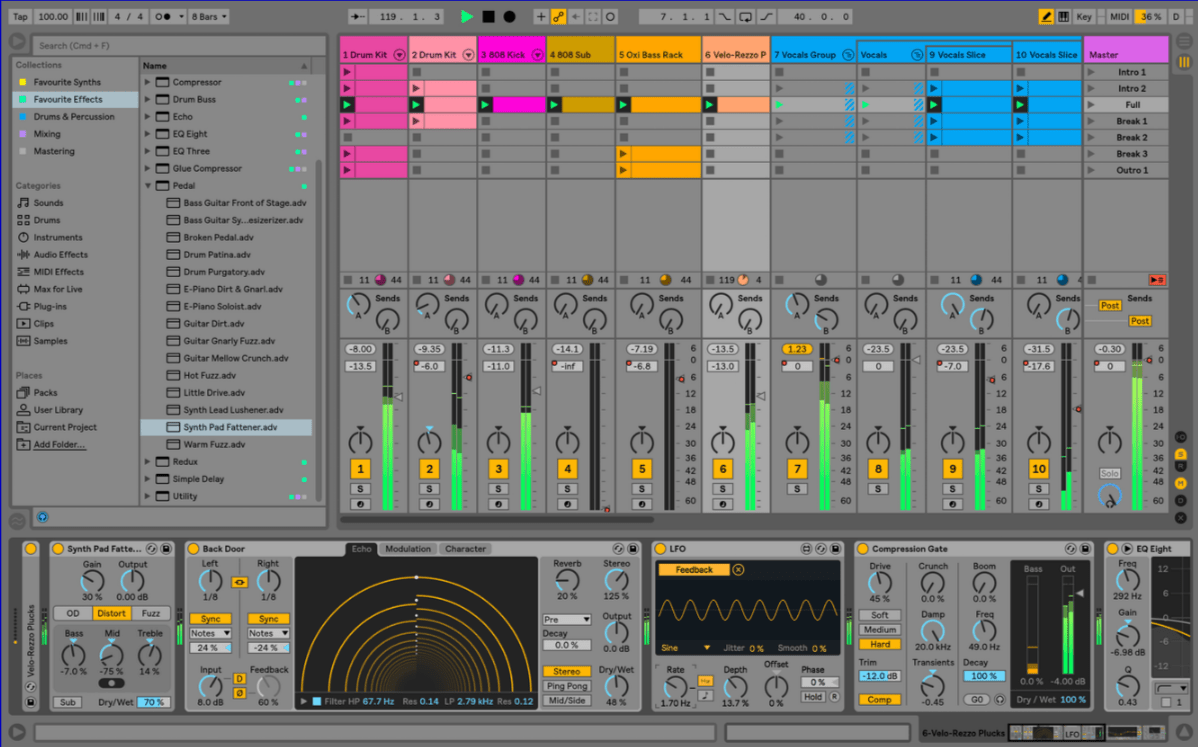 Ableton is the most popular DAW among our community and with good reason. Its interface is pretty unique in the DAW world giving it a workflow that can take some time to master, but that its users tend to love. Ableton is probably the market leader for makers of electronic music – its workflow and features are tailored to this kind of music production and if you make music in any electronic genre you should probably at least give Ableton a try.
In addition, this DAW has also been designed as a live performance tool (hence the name 'Live') – so if you intend to perform your electronic music in a live setting this is probably the DAW for you.
It is weaker than some of the competition when it comes to recording live instruments and editing performances, but it is starting to make up ground – the ability to comp performances that was added in version 11 was a welcome step in this regard.
Ableton is a DAW that has an innovative interface made for the digital realm, but it still has faders and pan knobs that would not look too out of place on an analog mixing desk
Finally, it has one of the best sets of bundled plugins of any of the DAWs currently on offer; another major positive.
The Intro pricing is very cheap ($99) and lets you dip your toe in the water, but if you are planning on taking music production even semi-seriously you will probably want to go for either the Standard ($449) or Suite ($749) software tiers.
Price - $99 - $749
Pros
Fantastic workflow for electronic music
Excellent bundled plugins
Excellent for MIDI editing
A fun DAW to use, that encourages creativity
Cons
Audio editing features not as robust as some of the competition
Not the best for working with live instruments
The unusual workflow is not for everybody
Pro Tools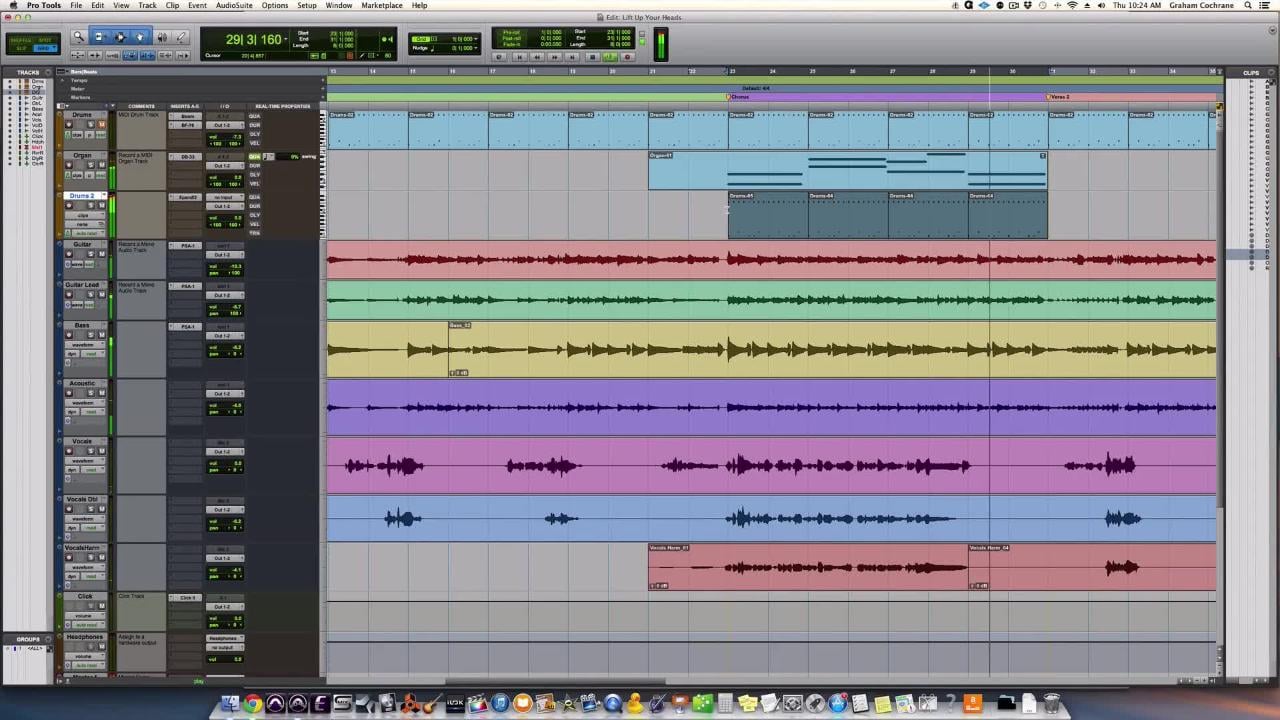 Pro Tools was one of the very first DAWs available and its early emergence means that it is still the industry standard in certain settings; particularly professional recording studios and in the film audio business.
Its features for recording live instrumentation and audio editing are second to none, and it has a workflow that makes editing incredibly fast as well as very accurate. It isn't as strong when it comes to working with MIDI or samples. These features have been much improved in recent years, but still lag behind DAWs like Ableton.
All of this means that if you're interested in recording live bands, or eventually working in a professional studio, Pro Tools is an excellent choice. However, if you work in electronic music it probably isn't the best DAW for you.
For most producers the standard software provides everything you need, but even this isn't cheap coming in at $199 for a yearly subscription.
Price - $199 per year - $399 per year
Pros
Industry-standard for recording and editing audio
Widely used in commercial settings
Excellent features for mixing
Cons
Unsuited to making electronic music
Relatively expensive
FL Studio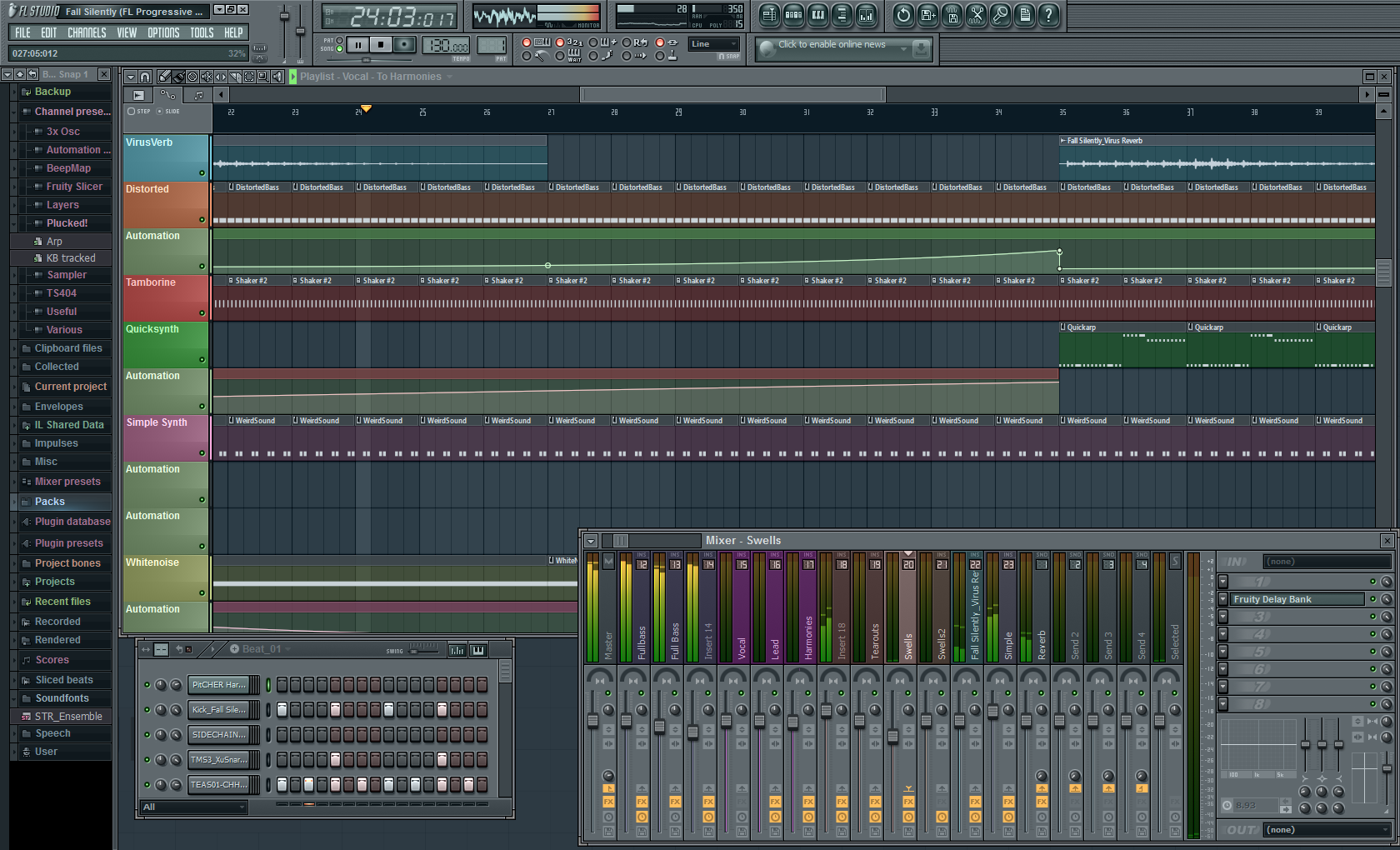 FL Studio is another DAW that is aimed squarely at electronic producers and beatmakers. It has great features for MIDI programming in particular, and is pretty straightforward to use despite having a wide feature set.
It is not one of the best options when it comes to mixing, as certain tasks require slightly complicated workarounds, but it is generally nicely intuitive as a music creation package.
The price point is lower than some of the competition, but it's worth noting that the cheapest tier (Fruity Edition, $99) does not allow audio recording. This means you'll probably want to go for the Producer Edition ($199) or higher. One nice touch is that you get free updates forever – so once you've paid out for FL once, you'll never have to do so again.
Price - $99 - $499
Pros
Great features for beatmakers
Intuitive interface is great for beginners
Strong MIDI and automation features
Never pay for updates
Cons
Not the best for mixing
Selection of bundled plugins is not that strong
Cubase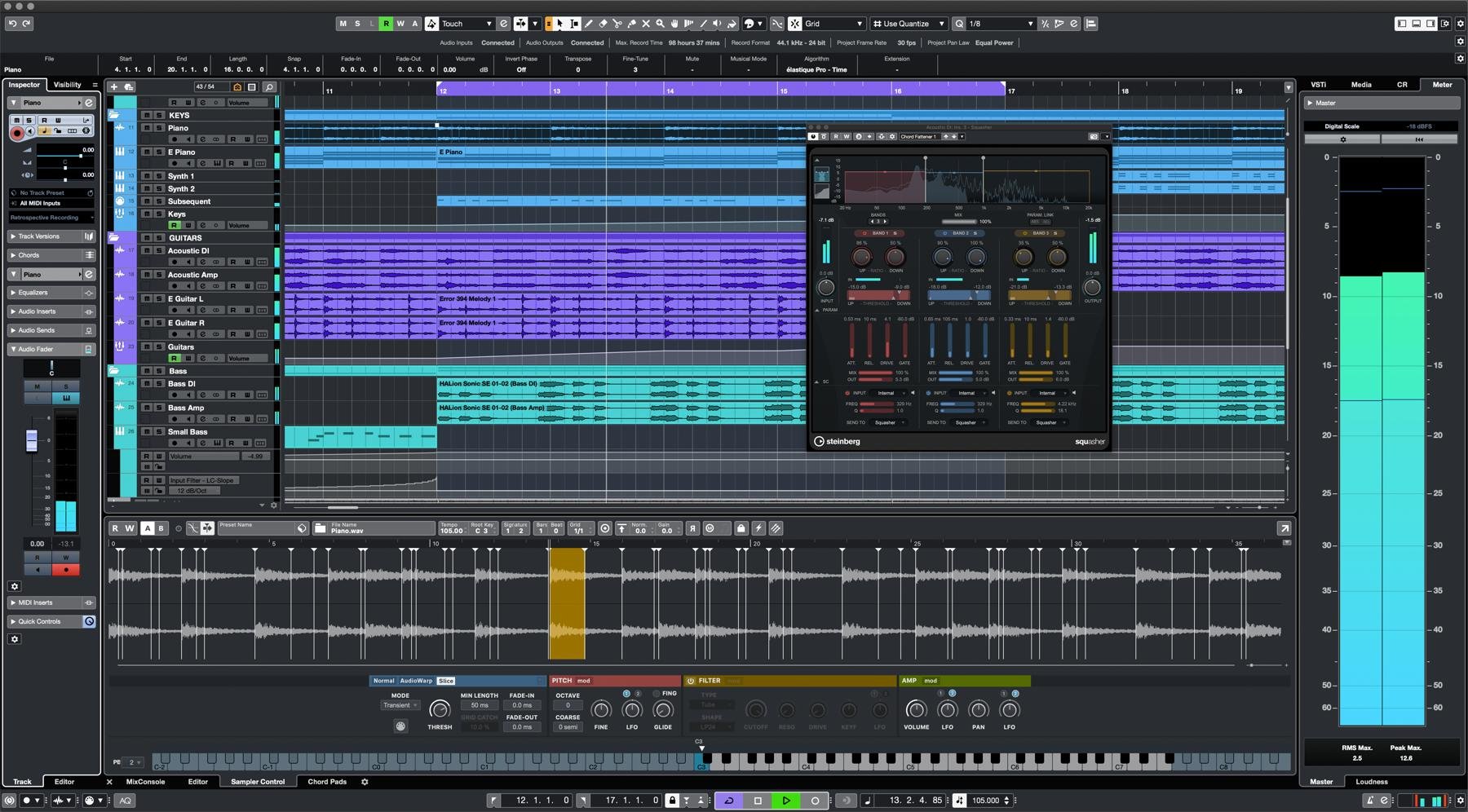 For a number of years Cubase lagged behind the competition in terms of its user interface and ease of use. Therefore despite having been around for a long time, it was superseded in terms of popularity by Pro Tools, Logic and others.
In recent years however, the DAW has improved massively to the point where it's now an excellent one-stop-shop. It is very solid when it comes to music creation features such as midi editing, but also packs in plenty of excellent features for recording, editing and mixing. It comes bundled with a long list of decent plugins too – however pay attention to what you get on one pricing tier as opposed to the others. Many features aren't unlocked unless you pay for the Pro version, which is expensive ($579).
Price - $99.99 - $579
Pros
A good all-rounder with nice features for music creation and mixing
A good selection of bundled plugins
Good MIDI interface
Cons
Advanced features and some plugins only available at highest price point
Complex feature set is not particularly beginner-friendly
Logic Pro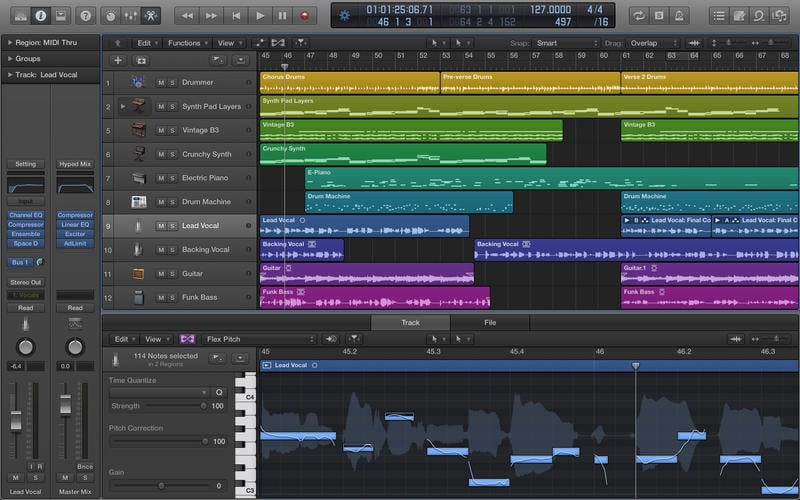 Another great all-rounder, perhaps not as powerful as Cubase but much cheaper and probably more beginner-friendly. Logic is made by Apple, so if you're not working on an Apple computer then this one is not for you, but it's worth considering if you do already own one of their machines.
The music creation features here are very solid and there are some great mixing features too. Finally, the bundled plugins are of excellent quality and there are plenty of them. The audio editing lets it down slightly, not being as robust as on other DAWs.
At $199.99 it's much cheaper than most of the DAWs out there that have similar feature sets. If you're a student you can buy it for this price as part of a software bundle that also includes Final Cut Pro.
Price - $199.99
Pros
Good all-rounder
Great selection of plugins and virtual instruments
Great value compared with the competition
Cons
Only available for Apple products
Audio editing a little clunky
Reaper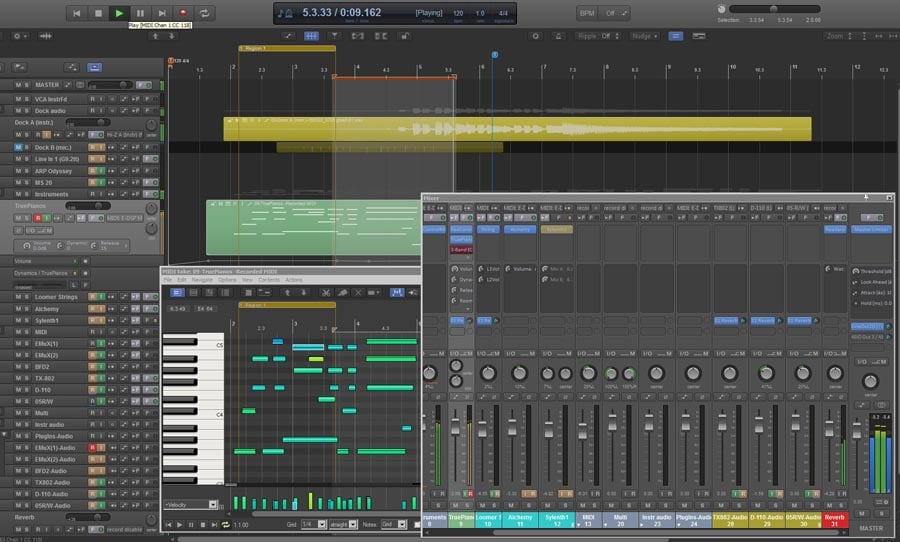 Reaper is not as widely used as many of the other DAWs on this list, but it has some truly dedicated fans. These fans tend to point to Reaper's to major plus points – its price and its customisability.
Reaper is by far the cheapest option out there at only $60 for a full featured DAW. That really is an incredible bargain. It doesn't come with as full a feature set, or as many plugins as its more expensive competitors – but there is everything here that you need to get started making music. Its open source code makes it hugely customisable compared to other DAWs and it has a community of advanced users that take full advantage of that. That said, it's also very straightforward to use, making it a good choice for beginners too.
Price - $60
Pros
The price is a bargain
Highly customisable
Simple, intuitive interface
Cons
Fewer advanced features than much of the competition
Few bundled plugins
Relatively small user community means there are fewer online resources for learning
Reason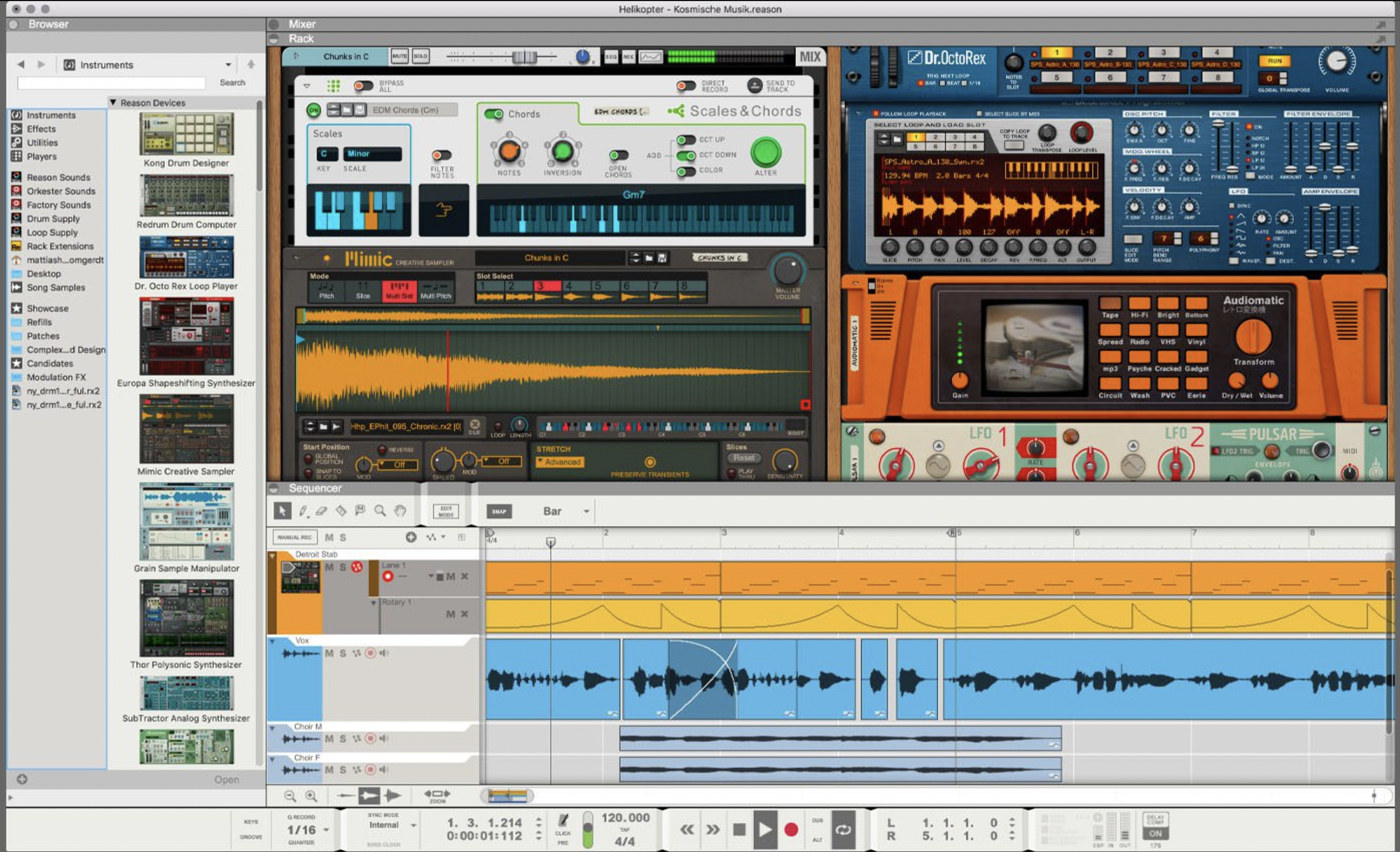 Reason is unusual in that its interface is constructed around traditional hardware-based workflows. This can be a little clunky compared to the sleeker, modern interfaces provided by the likes of Ableton. However, this DAW definitely has its fans and if you're from an analogue recording background this could be the product for you.
The area in which Reason is really outstanding is in its software instruments. It comes bundled with 19 of these and they are of an excellent quality, and there are plenty of plugin effects included too. If you make electronic music you really do get everything you need in this one package.
Price - $499
Pros
Excellent selection of virtual instruments
Hardware style interface will suit some people
Cons
Outdated interface is a little clunky
Editing features lag behind other DAWs
Garageband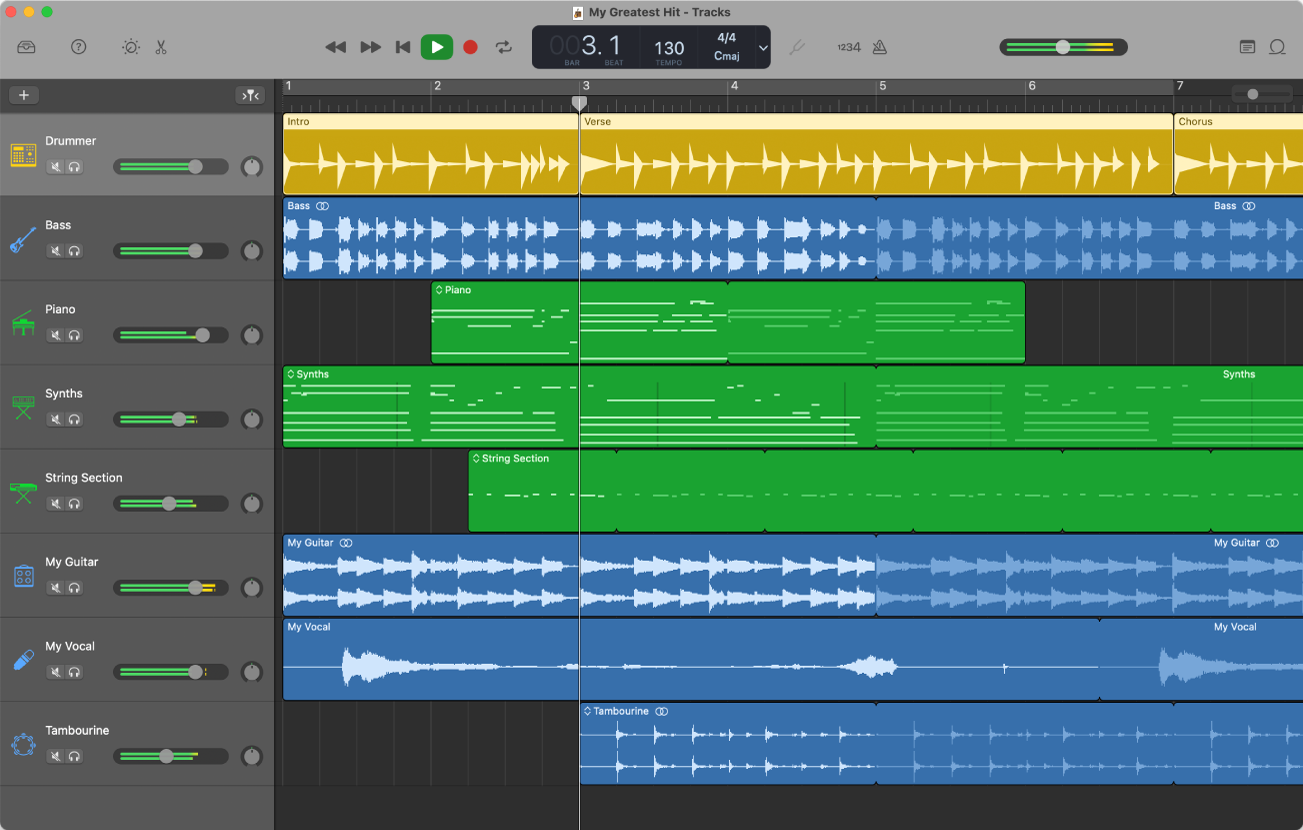 Garageband is the 'little brother' of Logic Pro and come free with Apple computers. It's not a full-featured DAW by any stretch, but we mention it as if you own an Apple computer you already have this software, and it really isn't a bad entry point. It's a simplified version of a standard DAW but that's not the worst thing if you are learning the ropes – and the transition from Garageband to Logic Pro in particular is a very smooth one.
Price - Free
Pros
The cost!
Everything you need to start making music on your computer
Solid entry point to the DAW world
Cons
Simplified feature set will eventually be very limiting
Only available on Apple products

Hopefully you now have everything you need to begin your DAW journey. Once again, it's worth picking a few from the list above and testing them out for a few weeks each on a free trial. If you're a student make sure to check for student pricing too, as it is frequently available. Good luck, and remember there is no all-round best DAW – but there will be a best DAW for you.