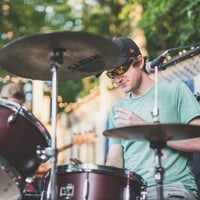 Hey everyone, it's awesome to see so many people posting mixes this week! I'm insanely busy these days but I still lurk and check out Magghy's pick each week. Hearing this song I figured I had to join in since it was so different than anything I've mixed before and it sounded like it would be a lot of fun to mix (and by the way, it was).
I kind of had to mix really quick to get this done and I didn't have as much time to really fine tune things, I think this track would have benefitted from a lot of small automation work to really bring out all of the details, but sadly automation is always the last part of mixing so I didn't have time to get a nice balance on it.
I used a Neve console for some warmth and grit, they're always a bit of a challenge to mix on due to the frequency selections. The drums naturally sounded kind of heavy/rockish so I pushed them further into that direction although I don't think the drum sounds were the best choice for this song. I really wanted to bring the bag pipes/flute to life so I spent a decent amount of time messing around with them. I referenced two tracks, some Dropkick Murphy's (I shuffled a few of their songs) to get an idea on the bagpipes and then used an old Canadian drinking song called Home For A Rest for the flute/Celtic vibes. I threw a SSL G Comp on the master buss at the last step, dunno how I feel about it. The mix lost a lot of openness with it on, but it brought a lot of focus and gave it a bit more drive. Could have gone either way with it, I don't think either approach hurt/detracted.
https://soundcloud.com/user-519015469/a-sailor-was-born/s-LfXo5YvIHJI?si=d60fdf0ac6d9425c97ca7c34befcd9b4&utm_source=clipboard&utm_medium=text&utm_campaign=social_sharing
I'll do my best to listen to the mixes, there's a lot of them this week but I shall try my hardest to get through them. Thanks for listening and keep practicing everyone!