Modern AI tools can help you write faster, mix better, and perfect your work more efficiently if you learn to use them to your advantage in the studio, and in this article, we explore the best AI tools available for music production and creation.
Artificial Intelligence (AI) has been gaining traction worldwide as new tools with the potential to better our lives emerge almost every day. This new "trend," or what I perceive as part of the new digital renaissance, also affects us as music producers and musicians.
Each of us has a subjective reason for creating and consuming music. for some of us. It's a way to express ourselves without using words and a way to find comfort in shared experiences or fantasies. For others, it's just an entertaining way to relax and have fun while jamming along with friends.
I remember starting to learn music production back in 2013. The fact that I could use DAWs to build melodic parts using soft synthesizers and record my own vocals at home blow my mind! And what is possible now for the younger generation is far more than I could have ever imagined.
Technological achievements are reshaping how we create and consume music. If you want to remain relevant, it's up to you to learn and explore these new tools.
The more we create, the more we inspire others and enable ourselves to better our skills and abilities, both in the technical and emotional realms.
With the surge of these new tools for musicians and music producers, we wanted to explore the best AI tools out there and how you can use them to help you in your music creation journey.
7 Best AI tools for Musicians 2023
There has been a recent uptick in the number of AI tools available to musicians and anyone involved in music creation. The ones that made it in this list aren't the newest available; rather, they're the ones that are established as trustworthy.
1. Jarvis - Lyrics generator for inspiration
Jarvis is an AI tool for songwriters that can help them get past writer's block. It makes lyrics suggestions based on any artist, genre, title, or lyrics prompt. You can then cut any line(s) and use it as a starting point or to continue your own lyrics.
The goal isn't to come up with finished lyrics right away. Instead, the goal is to get endless inspiration from random suggestions and creative accidents.
2. SongStarter - Musical generator for inspiration
Like Jarvis, Which is focused on specifically helping you with lyrics, SongStarter can assist you on the music production side.
SongStarter is a songwriting tool from Bandleb. It's designed to help you generate ideas for songs by providing a starting point in the form of a chord progression, melody, and rhythm.
You can either create these inspirational starting points by pure randomization or by inputting text prompts. Once generated, you can edit the content in the integrated BandLab online platform, which acts like an online DAW, Play with the channels and midi, and add lyrics to create a complete song.
3. LALAL.AI - Stem separation
Lalal.ai is a browser-based stem separation tool that allows you to extract individual audio files, such as vocals, drums, instruments, bass, and more, from a song that you no longer have access to the stems for or a song that you love and would like to remix/bootleg for (non-commercial) publication on SoundCloud or YouTube.
When compared to other browser-based choices, Lalal.ai's quality is surprisingly good and the process itself is quite straightforward. It's a technical tool that can cut most of the hard work of creating stems or extracting them.
4. Cyanite - Analyze and label music
Cyanite is a program that uses AI to analyze and label music. Musicians, producers, labels, and publishers use the service to quickly and easily manage their extensive music libraries.
If you don't want to spend hours upon hours labeling songs, you may have Cyanite's AI do it for you. It can analyze the genre, rhythm, chord progression, harmony, and emotion of any given music in a matter of minutes.
As an individual, Cyanite can aid you in the promotion of your music across various streaming platforms. It is easy to correctly classify and identify your music for placement on Spotify playlists.
Playlist curators also use the service to organize huge amounts of music content to create and update playlists that include a wide range of musical styles, moods, tempos, and more.
5. Landr - AI Mastering and much more
When it comes to mastering your tracks fast, efficiently, and affordably, LANDR is a fantastic resource and should be one of the first online mastering services you consider if you want to master your music online at a low cost and without needing specialized software or outside expertise.
In addition, LANDR is a hub for musical innovation, providing tools like distribution, plugins, collaboration, promotion, and sample packs.
AI technologies are only going to get more complex and integrated into the music world; it is absolutely necessary for artists and producers to familiarize themselves with these tools and make use of them in order to maintain a competitive advantage and stay ahead of the curve.
6. Midjourney - Create realistic images and art
Simply put, Midjourney is a think tank that tests innovative ways of communicating ideas. Their ultimate aim is to increase humanity's capacity for original thought.
Here, we refer to the conversational bot offered by Midjourney via the use of the discord platform. The system lets you input a text prompt and then generates an image to complement it.
Let me say that again so that you can better get your head around this concept. You write down any description, whatever comes to your mind, and the bot will generate an image according to that description.
AI-made artwork has the potential to give musicians new ways to express their creativity out side of music. Everything from the artwork on record covers to the visuals for live performances and even music videos.
7. ChatGPT - Finding solutions to (almost) all your problems.
If you haven't yet heard, OpenAI's ChatGPT is taking the world by storm. It's a language model that can generate natural-sounding text responding to a question or context. It can be adjusted to perform various tasks, including translation, question answering, and text summarization.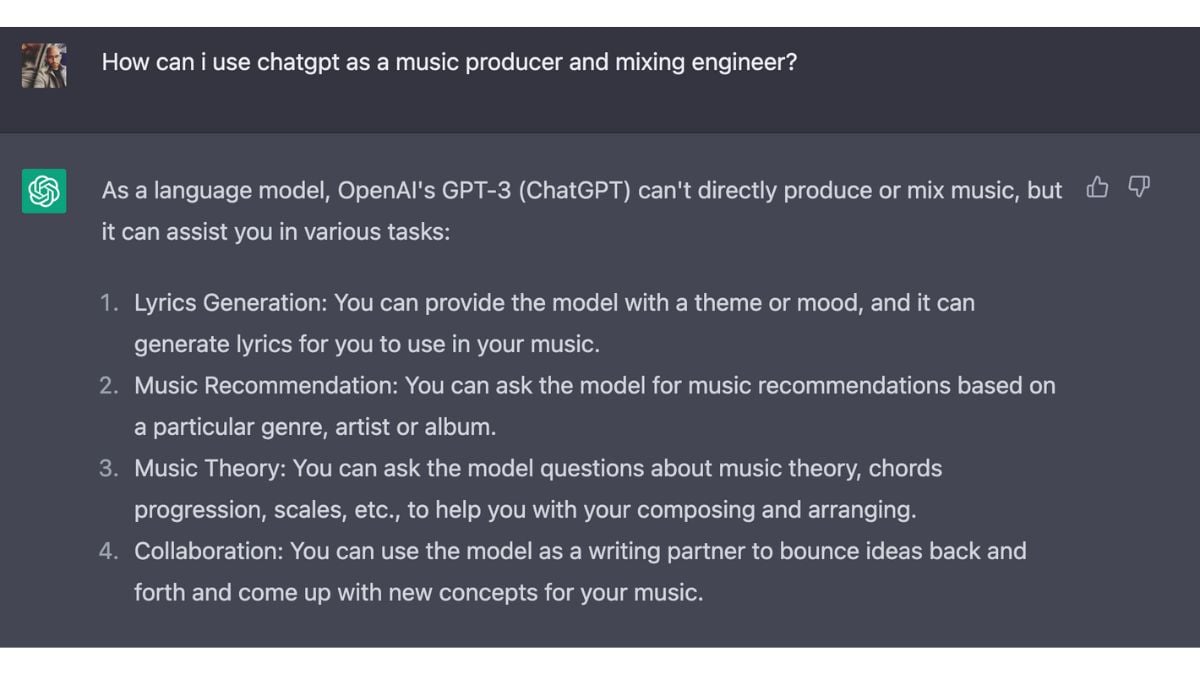 It has a number of potential applications for assisting new musicians and producers in the music industry. It can help you create lyrics, song titles, and even get suggestions for instrumentation and arrangement.
As a language model, it can also be used to produce album blurbs, artist profiles, and promotional materials.
---